Being Stylish on a Budget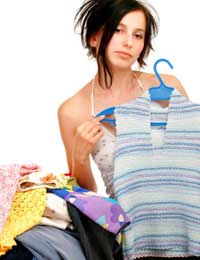 Your ability to be stylish does not have to be limited by your budget. Whether you are looking to purchase shirts jeans, casual clothing, hats, sunglasses, or other accessories, being stylish on a budget can work if you apply a little hard work and common sense.
The first thing you need to do is evaluate what you have in your cupboard. It is possible to build a stylish wardrobe by adding a few classical touches to what you already have. The idea is to have clothing pieces you can mix and match to make several tasteful outfits. But remember to take into consideration what type of clothing you need. If you work in a professional setting, you may need dressy clothing, but you may also want items that would work when going out to a pub. What will you wear if you are just going out for a casual evening?
Take a good inventory of your current clothing and see what works and what does not. Decide what your style is and keep the pieces that fit into that. Also check to see what fits or what no longer fits. Anything that does not fit or is not your style, but is still of high quality and in good condition, you should consider selling online (such as through eBay) or through a resale shop. This will give you even more money to purchase new items.
Once you have kept the items you need, then you must decide on what needs to be added to make your wardrobe complete. Be sure to choose a color theme. Think about what colours or patterns you like and work from there. There are certain items everyone should have in their cupboard. For women, a nice, stylish pair of black pumps is essential. For both sexes, a nice coat that matches many outfits is also a necessity.
Before you leave to purchase new items, keep in mind the clothing you already have. If you have three different pairs of trousers, and the addition of a black or brown waistcoat will give you three unique outfits, put that on your must have list. If you have two skirts that would both be complimented by the same colour of shirt, then making that purchase will give you two different outfits. The idea is to work and build on what you already have. Do not forget about your shoes too – the pairs you keep should go with more than one outfit if possible. Keep the handbags that match other clothing in your cupboard too.
Hitting the Shops
Now that you have decided what to keep as a basis for your wardrobe, you will need to purchase the new items. How can you save money doing this? Be sure to check out all the stores sales you can. Buying things on discount will definitely help stretch your budget. Also, look for items off-season. Remember that January and July are major sales periods. If you are not sure about a sale item, consider this – do not buy anything at a discount just because it is on sale. If you would not pay full price for it, you may just be buying it because it is inexpensive rather than something you really want to add to your apparel. There are websites online that help you compare prices of items. Online sites like Kelkoo and DealTime will help you comparison shop for clothing to find the lowest prices available.
Alternatives
Another way to find good deals on clothing may be at a car boot (trunk) sale. You can check out the Car Boot Junction Directory online for a listing of sales near you. You may have to pick through rubbish to find a great piece of clothing, but it will be worth your effort. Do not forget about resale, secondhand, and charity shops. Check out the listing of charity shoppes online at UpMyStreet.
Another great idea is to organise your own swap, if you have a few friends of the same size. Take the good clothing you have that you do not want anymore and invite your friend to bring their items they no longer need. You can do this at your flat and a party of it.
Just remember that since you are trying to budget, you do not need to spend a lot on clothes all at once. If you add great pieces that go with other items in your wardrobe one piece at a time, before you know it, you will have a stylish wardrobe.
You might also like...