How to Look Good in Alternative Fashion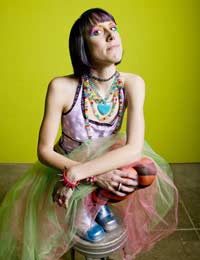 This hinges very much on how you dress, generally people with more outgoing personalities will go for the more eclectic and colourful side of the alternative fashion whereas more introvert people will go for the darker side.
There aren't any set rules as to how you should dress to pull off this style, its all down to what you feel comfortable in.
Alternative fashion, by nature, tends to attract attention as it doesn't always conform to normal fashion rules, you must have the confidence to pull this off or at least not be bothered about extra attention.
Your Music Tastes
Alternative fashion and alternative music tend to run side by side so if you are struggling to pull off an alternative look then watch your favourite bands and see what they are wearing. This is a good basis for a style, try not to copy them as individuality is the key, combine the styles of your favourite bands and their followers with your own flair and individuality.
Types of Alternative Fashion
This is by no means a comprehensive listing and there is nothing to say that you can't combine these styles but it gives you some good ideas for when you research your style. Goth: This is probably the most well known styles although the lifestyle is a big part of it, Goths aren't scary or evil like many people think, just normal people who have a style based on dark colours with sometimes very medieval aspects such as cloaks and tunics.
Electro: This goes hand in hand with the type of music it is named after, often called nu-rave it is very 80s influenced with bright colours, various 80s references such as games like Pacman.
Emo: Once again this runs alongside the music style that it is named after, usually a style taken on by teenagers and those in their early twenties. Often it compromises of skinny fit jeans (for both boys and girls) converse trainers or similar and then a zip up hooded top of some sort.
These are but a few styles and if you want to be truly individual don't follow just one style, combine them and create your own.
Where to Shop
You can find alternative styles in any shop, depending on what look you are going for. All highstreet chains will carry some form of alternative clothing or at least some pieces with potential. If you know what you are looking for then these shops can be a great place to put your style together. Most towns and cities have a rock shop or two, a shop that sells rock music merchandise as well as a alternative clothing and accessories.
Charity shops can also be a treasure trove of clothing if you know what you are looking for and have the time to sift through the items then you can pick up some bargains.
Individuality
The point of these styles is to be individual, and individuals tend to attract attention from those who don't understand fashion, style or individuality. Be prepared to base your style on how much you want people to look at you, this can be great for anyone who likes fashion but if you aren't a fan of the attention then tone it down.
Remember to combine the clothes you like to wear with elements of the style or styles that you want to take on. Do you research and you can find out the shops that stock a particular kind of clothing, what goes with what as well as the dos and don'ts of any style.
You might also like...