How Do I Start a Women's Club or Ladies' Circle?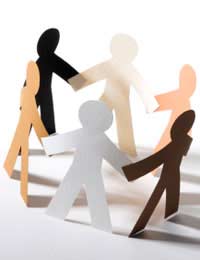 Q.
I am interested in making friends by starting a women's club or ladies' circle. I just moved to a new part of the country.
I am planning to organise a traditional dressup dinner party, invite a few females that live locally and some of the mums from my kids' new school.
I would like to tell them about the club and see if there's any interest at the dinner. How do I start my dinner invitations and handle the whole party procedure?
(A.M, 23 February 2009)

A.
Think about the main reason that you are wanting to start a club, is it because you want to find women that read the same books as you, watch the same movies as you? Or is it to have healthy debates on women's issues, share advice and stories? Or is it to give back to the community and begin volunteering as a group and doing some fund-raising for worthy women's causes.
You also need to decide the tone of your group, will it be laid back or a bit more serious, this is something to consider when you come to wording your adverts looking for people to join.
Online or Offline
There are many places where you can set up free message boards on the internet, if you set up one of these there is no need to be restricted to your locality, you could meet people from all over the world. If you wish to interact and meet people in person then you will need a suitable place to meet, it could be your favourite coffee shop once a week or you could hire out the local church rooms for a small cost.
There is nothing to say you can meet up regularly and have an online presence, a message board and website is a good way to promote what you are doing and find interested women.
Finding Like minded Ladies
Once you have decided the reason you want to begin a club you can begin advertising for it, a good place to start is classifieds sites. Post that you are looking to start a club and would like to find like-minded females for book reading / debate / movie discussions etc. From here you can find a few people who are willing to help as well as join. These first few people will help you find your footing in your new area and will help to recruit others. If you are going for a more local feel then posting a small advert at the local school and in the post office with get some response. If you are looking for something more widespread hit national and international message boards that deal with women's issues, you are more than likely to find a lot of people who are willing to join your club.
You might also like...