Dressing to Suit Your Body Shape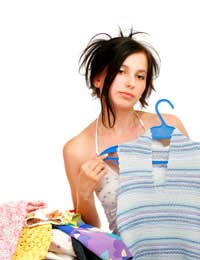 Fed up with the size of your bum? Wish you had bigger boobs? Wardrobe filled with black garments in the hope of hiding a few extra pounds? Fret no longer - no matter what your shape, here's how to choose clothes that make what you've got look great.
Shape: Boyish
Solution: Don't waste time using padding to create the illusion of curves - rejoice in the fact that most designers create clothing for shapes just like yours. You'll be able to wear the most dramatic styles without fear of anything sticking out in the wrong way, so when it comes to picking outfits, the last thing you should be is conservative.
Those with smaller busts need less support for them, so anything goes when it comes to tops. Buy plunge necks, backless and strapless numbers to show off your neat proportions. Corsets will make the most of what you've got up top without looking tawdry, and are ideal for those wanting a bit of a boost in front.
Trousers are elegant on a slender-hipped figure. Go to town with straight-legged, bootcut or flared styles, but be wary of wide-legged versions which could swamp your shape.
Be careful with colours and patterns, as anything too bright or large will drown a wearer with a smaller frame. Let the dramatic cut of your clothes speak for themselves and use accessories to add glamour and colour in small doses.
Shape: Pear-shaped
Solution: You need to find clothes that will balance out your body, rather than attempting to skim over your bottom half with shapeless skirts and trousers - which usually ends up making it look even bigger.
Avoid wearing anything lighter on your bottom than your top, as that's guaranteed to add width. Darker shades and structured cuts, such as bootcut trousers that flare out at the ankle or A-line skirts, create a streamlined shape rather than clinging unflatteringly.
Steer clear of long, baggy tunic tops that stop at hip level and end up maximising the widest part of you. Waist-length garments will avoid this, but if you feel more comfortable with a longer-length top, then ensure it's fitted at the waist and floats over your hips and derriere.
Colour and pattern are excellent ways of drawing attention to the areas you want people to look at. Pick eye-catching tops and bold accessories to team with your well-cut bottoms, and listen to the compliments flood in.
Shape: Big-busted
Solution: It's like the straight/curly hair debate - while flatter-chested women long for bigger boobs, top-heavy types often feel self-conscious about their assets.
Start all outfits with a well-fitting bra. If it's the wrong size, your breasts will look oddly-shaped under anything you put on top. Get measured for free in a department store if you're unsure of your size. Ensure bras provide proper support, with an underwire and wide, non-slip straps to keep it in place.
Tops or dresses that don't allow you to wear a bra underneath are not a good idea, so avoid plunging or backless styles. Strapless tops - even those with built-in support - will flatten your breasts down unflatteringly. Don't be tempted by corsets either - you'll end up looking like a 16th century throwback with cleavage under your chin.
Choose tops that show decolletage to balance out your shape - polo-necked jumpers make large boobs look droopy. A deep V neckline or a wrap-style top is always flattering, drawing attention to your cleavage without being too revealing. Accentuate this area with a necklace that dangles down toward your cleavage (but not into it!)
Shape: Curvy
Solution: If you're lucky enough to have a Marilyn Monroe-esque hourglass figure, make the best of it by choosing pieces that draw attention to your waist and maximise the curves above and below. Fitted waist-length jackets and tops will add shape, as will garments with a belt. Be wary of clothes without a shape - stretchy, clingy ones are fine, but long, shapeless tunics will turn your bust and hips from assets into unflattering bulges.
Ensure you play up to your womanly shape by picking ultra-feminine pieces wherever possible. At work, there's no point covering up your silhouette by wearing suits tailored for androgynous types, so pick skirts over trousers and nipped-in jackets over boxy numbers. Try pencil skirts, go for scoop-neck tops that mirror your hips, and never be seen without high heels for that sexy Monroe wiggle.
Shape: Voluptuous
Solution: You're not alone in being bigger - the average UK woman's a size 16. Don't try to cover up any embarrassment by buying clothes in smaller sizes, which will be too tight and make you look much fatter than if you'd bought the correct size.
Equally, banish ultra-baggy clothes, as they'll suggest there's far more underneath than you're actually covering. Make sure whatever you buy has a structured cut. Anything designed to cling will not be flattering, so steer clear of stretchy skirts or leggings. Loud colours can be overwhelming, but embrace big patterns, which will break up your shape and make it look smaller.
Clothes and accessories that hang down will give the illusion of extra height and balance out your spare pounds. Go for three-quarter length jackets (not waist or hip-length, which will just draw attention to problem areas), dangling earrings and long necklaces to lengthen your neck.
Remember, no matter what size or shape you are, if you feel you look good then chances are other people will too. So don't forget to straighten your shoulders, put your head up and smile - it's always the perfect accessory to any outfit.
You might also like...