Choosing a Restaurant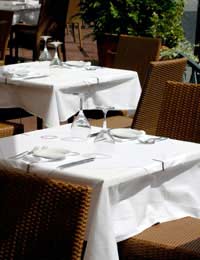 It's always heartbreaking to spend hours searching for a restaurant for that special occasion - only for your event to be ruined because the food, table or service isn't up to scratch. Follow this step-by-step guide and it'll be a breeze to select the perfect eatery for your needs without ruining your sanity.
Step One: Consider the Occasion
What sort of restaurant you want will depend on your reason for booking - are you looking for somewhere to celebrate your mother's 60th birthday, a stag or hen night, or your first anniversary? The two key criteria to consider at this stage are size and price per head. Work out how much you want to spend, which will help you narrow down your selections when you proceed to…
Step Two: Find Out What's Available
Take advantage of your own area's regional information to find out what's on offer near you - check local papers and what's-on guides for restaurant advertisements, reviews and special offers. If you're organising a party in a location further away, plenty of regularly-updated guides exist to help you make a choice.
The top guides include Square Meal (brochure and website), which is particularly good if you're looking in London and gives details of venues for different meals and events. The Good Food Guide (book and subscription website) is a comprehensive overview of restaurants across the UK, while the Egon Ronay guide (book only) gives a professional's view of restaurants and gastropubs.
Having set your boundaries on party size and price, check restaurants' websites for details of the size of the dining rooms, menus and any private rooms available. If you're planning to take a big party, note that some places carry restrictions on numbers at individual tables, usually for safety reasons.
Step Three: Get Some Recommendations
No matter how glowing the professional critic's review, how elegant the décor looks in pictures or how mouth-watering the menu sounds, the best advertisement for any restaurant is word of mouth. Recommendations from family, friends and colleagues will give you a better idea of layout, clientele, extras and, most importantly, service - which can be far better for critics than for the everyday visitors!
If you're interested in visiting a restaurant that nobody you know's been to, look online for websites carrying diners' reviews of the establishment. While these vary in quality from the one-line 'excellent, going again soon' to a detailed deconstruction of every course on the menu, you'll gain an overview of the kind of service and ambience on offer.
No personal information available for your chosen restaurant? Take a helpful friend or family member for a 'trial run' meal, and get their opinions on the décor, food and service as well as forming your own. Try to go at the time of day you're planning the event - lunchtime and evening crowds often differ hugely in the same place.
Step Four: Make Your Booking
Depending on the size of the occasion you're planning, it's worth finding out who you should speak to at the restaurant. Some places will have dedicated function managers to oversee the running of events in their private rooms, whose numbers and email addresses are often given on websites. They're the people to talk to about any special needs your guests may have, as well as about possible discounts for large parties and any deposits you may have to pay.
All bookings should involve the booker taking your name, phone number and the number of people in your party as well as the required date and time. Top-grade operations will phone, email or text you before the event, asking you to confirm the booking. If they don't do this, and particularly if you're booking for a large number of people, it's worth ringing to confirm anyway.
In case of emergency, ensure you note down the date on which you made the booking, and, if possible, the name of the person you spoke to as well. That way, if you turn up and find nobody's expecting you, you'll have the facts at your fingertips.
Finally, if you're planning a big event, shop around between establishments for a good deal and don't feel you have to stick to any commitment you've made. All venues will have a cancellation policy to cover losses, and another restaurant may offer you a better deal after you've booked with a rival. Above all, stress what a special occasion it is for you - the perfect establishment will be as keen as you are to make the event a memorable one.
You might also like...