Party Food For All Occasions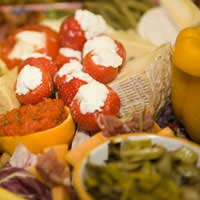 Food's often one of the most predictable things about any party; you'll usually get pork pies and sandwiches on a picnic, several varieties of crisps at a buffet, or rather burnt sausages during a barbecue. Stand out from the crowd by trying these event-friendly alternatives - and avoid the dishes that'll cause trouble.
Picnics
When you're packing the picnic basket, think about the foods you're planning to take: will it get crushed or bruised by a long walk inside a heavy bag? Crisps are best avoided, while cakes or soft fruit should be packed in durable containers. Nothing's less stylish than squashed picnic food.
Sandwiches and pre-wrapped pork pies are popular outdoors because they're easy to grasp and convenient to transport. Substitute them for unfussy, unheated but far more stylish finger food such as chicken wings, which can be bought in large frozen bags, roasted and eaten cold.
Instead of salad, which requires forks and bowls to eat, pack vegetable crudités, cherry tomatoes, olives and a large tub of dip to get your healthy fix. And if you're taking wine, buy a screw-top bottle, which not only removes the need for a corkscrew, but lets you seal it up and take it home instead of drinking the whole thing.
Buffets
Before you start stocking up on crisps and Marks and Spencer party packs, consider the wishes of partygoers, who want food that's easy to scoop up and eat with their fingers in between chatting to friends and grabbing another glass of wine. Try to serve reasonably substantial fare that'll help line people's stomachs while they're drinking.
Professional caterers often serve similar food in buffets as at dinner parties, scaled down to a manageable size. Take a leaf out of their book and try miniature versions of classic dishes. Make mini-pizzas using slices of baguette topped with tomato salsa, melted mozzarella and anything else you fancy, or fill cooled Yorkshire puddings with cold roast beef and horseradish sauce for a tiny take on a traditional Sunday dinner.
If you want your party table to stay pristine, avoid bowls of dips and sauces, which will get contaminated by other foods and dripped over everything. For the same reason, keep drink in bottles or cans and don't serve punch, which can easily be 'spiced up' with substances you never meant to add.
Dinner Parties
A bit of forward planning will smooth your path as host, especially if you're not bosom buddies with your guests. Ring them beforehand to check whether there's anything they don't eat or drink - there's nothing more embarrassing than setting steak tartare in front of a visitor, only to discover they're vegetarian.
If you're not much of a chef but desperate to impress your guests, remember they'll be much happier with plain, well-cooked food than an elaborate menu gone wrong, so don't pick that evening to debut a complicated dish you've never made before.
Ideally, your menu should leave you free to spend plenty of time with your guests. Select recipes that can be prepared well in advance - cold starters and desserts that just need removing from the fridge before serving.
Good choices include mousses, which can be sweet (chocolate, fruit or both) or savoury (such as smoked salmon or avocado), take very little effort to put together, and can be made in individual bowls. Consider baking a whole fish in the oven as a main course - it'll look elegant in a serving dish and require far less attention than a roast.
Barbecues
A barbecue's basically just another method of heating food up, so don't feel it should only be used for traditional fare - you can cook anything on a barbecue that you would in a frying pan or oven.
Instead of straightforward sausages and burgers, try making kebabs using chunks of meat, fish and vegetables threaded onto skewers. They're easy to eat on sticks and look far more colourful on the coals.
Jazz up chops and chicken legs by marinading them in different ingredients before cooking. There are plenty of recipes around, with staple ingredients including olive oil, lemon juice, soy sauce, honey and a variety of herbs.
For a twist on a summer fruit salad, make the most of the hot coals by wrapping fruit such as bananas or peaches in foil and baking them on the grill. Add a dollop of ice cream or mascarpone and you've got the ideal dessert. Treat young ones (and big kids) by slitting bananas lengthways down the centre and filling the middle with chocolate buttons before baking.
Whatever the occasion, make sure you're never without the basic essentials of a well-organised cook. Keep a corkscrew handy for wine bottles, buy in a supply of serviettes, don't forget the salt and pepper - and always have a notebook to write down details for all those people who'll be clamouring to know your culinary secrets.
You might also like...