How to Complain in a Restaurant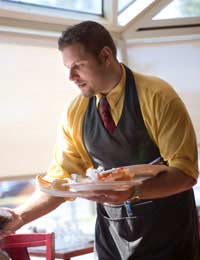 The very idea of complaining is something that strikes fear into the heart of most British people - drawing attention to yourself and daring to question the professionals' food or behaviour? No thanks!
However, it's vital to remember that only by pointing out what's wrong can it be put right - and on some occasions, you're actually losing out on your legal rights if you don't speak up and identify a fault. Read through this pocket primer to standing up for your rights and you'll never again be afraid to make a fuss about the hair in your soup.
When Should you Complain?
Restaurants build their reputation primarily on two things; the quality of their food, and the standard of their service. If you think something is glaringly wrong with either of these then you'll be doing the management a disservice by keeping quiet, so don't think they won't welcome you speaking up.
For food complaints, any foreign bodies in the food such as human hairs or things like bones in a supposedly boneless fish fillet are valid reasons to complain. They aren't supposed to be in your food and you can happily demand they are removed. If it's a really big foreign body, ask for a replacement dish.
Taste's a more subjective issue, particularly regarding wine - what's fine to some people won't suit other's palates. Get another person at your table to taste the food before you alert the staff. If you both have a problem with what's on offer, chances are they will too.
It's important not to wait until you've finished eating before complaining about the quality of the food - call the head waiter or maitre d' there and then, as there's very little they can do about replacing the dish at the end of the meal.
A lot of people don't feel comfortable ordering waiters around, but you must remember they are paid to cater for the guests' needs and make their living by doing so. Any hint of rudeness, inappropriate behaviour or lack of helpfulness should be reported to the manager, who should then go out of their way to rectify the problem.
How Should they Respond?
The first word that comes out of the managing staff's mouth when you make your complaint should be 'sorry'. It is their job to keep you happy and apologising is the very least they can do if you're not. Saying sorry is also the quickest and most effective way of pacifying ruffled customers, so if you don't feel they've made their apology clear, feel free to make a formal complaint to the manager in writing.
If something isn't up to the standards you expected to pay for, then you shouldn't have to pay for it - it's as simple as that. Good restaurants will usually knock the price of starters, desserts, wine or any rejected dishes off the total amount as a gesture of goodwill before presenting you with the bill.
Taking Things Further
You can make a stand then and there by refusing to pay the demanded amount for your food. This doesn't mean doing a runner, obviously - say you'll pay what you think the meal was worth and then leave your name and phone number with the manager so they can contact you about the matter if they see fit.
Refusing to leave a tip is the standard way of showing you're not happy with the service you've been offered, but don't forget some restaurants add a percentage of your bill on to the total amount by way of a 'service charge' (which should be clearly marked on the bill). If this is the case and you're not impressed by the staff, deduct it from the total amount, pay and explain why you've done so. This is entirely legal.
If you're still not happy with the compensation offered, ask the manager to whom you should address a formal complaint, go home and put it in writing, which should lead to further action of the part of the establishment.
What Not to do
Nobody will take you seriously if you start to shout and stamp your feet. Keep calm at all times and pitch your voice low to avoid sounding agitated.
Make sure your complaint doesn't descend into personal remarks or pure slanging. Stick to the facts of what's upset you - they'll be important later on if you wish to take things any further.
Don't demand to be given a free meal. You can offer what you think something's worth, but never try to get out without paying - that's the trick of a con artist.
Above all, don't lose heart halfway through a complaint - it's important you defend your position so that waiters, management and (if it comes to it ) legal officials will take you seriously. Remember you're entitled not to pay for goods that aren't up to scratch and hold your ground. You'll have the last laugh when somebody asks you whether they should bother going to that restaurant…
You might also like...