Table Dressing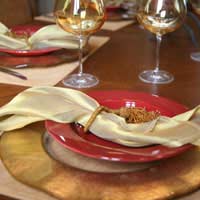 If the old chefs' proverb 'the first bite is with the eye' holds true, then an elegant table is the perfect amuse-bouche to get your guests in the mood for a spectacular meal. Sit down with this checklist and go through to make sure you don't miss any detail when preparing your place-settings and adding those all-important finishing touches.
What's the Occasion?
The first thing to do is consider the people you're entertaining and the occasion (if any) being celebrated. A family meal where kids and pensioners are going to be seated next to each other, for example, will need more robust and practical dressing than a dinner party for a few adult friends.
To achieve the smartest look, formal table dressing requires elements of symmetry and co-ordination. For this reason, it's best to stick to just one or two colours in your crockery, glassware and linen so the overall effect doesn't become fragmented. Go for bold combinations that make an immediate impact on the eye; black and white is great, as are dark 'jewel' colours like garnet red, sapphire blue or deep green.
What Are You Having?
Be practical - if the menu you've got planned will need special utensils to eat it with, such as steak knives or fish forks, don't make a crowded table even shorter on space by laying them at each place setting. Put the knives or forks blade down in a medium-sized jug, then simply ask people to help themselves when needed.
If you know the dishes you're cooking require condiments people will need to add themselves, think about how to present them. Around a busy table, they'll need to go in the centre so everybody can reach them - alternatively, set up a separate serving table out of harm's way. For smaller parties, consider putting individual bowls or milk jugs filled with salt, pepper, spices and sauces by each place mat.
Space permitting, a glass jug of iced water gives a 'restaurant' feel to your table, adding a professional edge. Similarly, putting butter in small pots (rather than using a vast old-fashioned domed dish) and serving bread in a napkin-lined basket show you've thought about the details.
Plates, Cups and Napkins
A tablecloth's not essential for formal dining, particularly if you're going for a more contemporary feel, but it does stop cutlery gathering dust and collects spills effectively. If you choose not to use a tablecloth, put fabric place mats under each setting so utensils stay spotless. Avoid melamine 'pub mats' - these are only fit for placing under hot cooking pots.
Make sure all your crockery - plates, side plates, bowls, jugs and sauce boats - co-ordinates with the other pieces. Even if the table's well-decorated, mismatched plates look as if you can't be bothered to make an effort for your guests.
You don't have to go overboard by providing the correct white and red wine glasses, but it's convenient for each guest to have one glass for wine and another for water. Coloured glassware looks gorgeous under lights and serves a practical purpose as well, so invest in a few sets that complement your tableware for an instantly decorative look.
Finishing Touches
Flowers are the conventional centrepiece for a formal table, but you don't have to stick to plonking a bouquet in a vase. A dinner party's the perfect time to display any antique china or silverware you own - try filling a vintage teapot with blooms, or adding miniature bouquets to cups from a tea service and spacing them down the table.
For a slightly more contemporary feel, scatter small flower heads or petals randomly about the table. Again, stick to one or two colours of flower so they're in keeping with your sophisticated tableware.
There's no rule that say you have to use flowers at all - a pyramid of brightly-coloured fruit, or coloured glass tones in a transparent container, is a great alternative when you just can't find plants you like. Or go back to nature by piling painted pine cones or pebbles into a container of your choice.
The main thing you should bear in mind while preparing your table is 'keep it simple'. Too much clutter, over-fussy decoration or irritating affectations will just make it difficult for your diners to get on with the business of eating. Don't forget the star of any meal served in your house should always be the food, so make sure it's got the best possible surroundings in which to shine.
You might also like...