Chat-Up Lines That Work for Men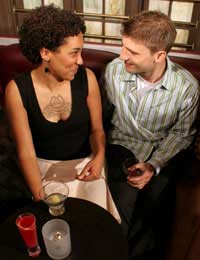 If you've always wanted to find out how women think - forget it. Women are simply too diverse, intelligent and downright contrary for this article to provide you with a blueprint of the female brain. What it can do, however, is give you a few opening lines that'll provoke a response from women you're dying to get to know. Skim these handy hints and you'll easily be able to learn what makes them tick - and what'll have them fleeing for the exit.
Do Say:
"Hi, I noticed you when you came in. Busy tonight, isn't it?"
Obviously, you need to pick your moment to approach a woman when using this one - don't jump straight in as she's walking through the door, give her time to get a drink and relax. Saying you picked her out from the crowd immediately shows you're attracted to her without sounding sleazy. The question at the end's up to you - but make sure you ask one so she'll reply and kick-start the conversation.
Don't Say:
"Hello, my name's…, fancy a drink?"
Apart from being utterly uninspired, you run the risk of her accepting, then taking the drink and walking off. It also sounds as if you're more interested in introducing yourself than finding out anything about her - and no girl wants to spend the evening with a self-obsessed type.
Do Say:
"That dress/necklace/pair of shoes looks great on you, I like the colour."
Try to get the conversation going before you start commenting on someone's personal appearance - beginning with this would be over-familiar. A comment like this pays tribute to a girl's personal taste without going overboard, and again, makes sure she knows you think she looks attractive.
Don't Say:
"That dress/necklace/pair of shoes looks great on you, where did you buy it?"
This makes you sound like one of two things; a man so obsessed with image that he needs to know where his girlfriend buys her clothes, or a girl.
Do Say:
"What do you do when you're not dancing/drinking/ doing martial arts here?"
A cunning way of getting the conversation flowing no matter where you've met them, and a little more interesting than simply asking what they do for a living, as it also opens up the possibility that they'll talk about their interests.
Don't Say:
"What's a nice girl like you doing in a place like this?"
They're having a good time - or they would be if people like you weren't asking them questions with blindingly obvious answers.
Do Say:
"That's an original way of putting it/ I never thought about it that way before."
No matter whether they're dressed like the rest of their mates, praising somebody's individuality always makes them feel good about themselves. Pick out the things you like about the person and comment on them - whether it's their jokes, their dress sense or their ability to reduce complex philosophical theories to a single sentence.
Don't Say:
"You know, you remind me of my sister/cousin/ex-girlfriend"
This makes them sound as if they're simply a clone of somebody else you know - as well as suggesting you have rather improper thoughts about the person you're reminded of.
Do Say:
"Polar bear jumping up and down…(wait for the puzzled look) Sorry, I was just trying to think of something that'd break the ice."
If quirky jokes are your thing, then use it to the best of your advantage, as a sense of humour's the number one way to attract women's attention. It's not sleazy, it's not boring and it's a promising sign that your conversation won't be dull.
Don't Say:
"Great dress - it'd look good on my floor in the morning."
Sex-based humour might be funny to your mates, but to a girl it's the ultimate turn-off because it's both sleazy and arrogant. So don't ask them if they fell from heaven, how they like their eggs in the morning or anything else - you'll be laughed out of the club faster than you can say 'get your coat, you haven't pulled.'
You might also like...