How to Flirt at Any Age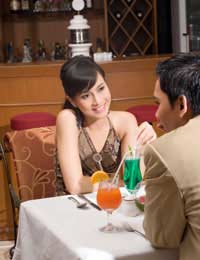 It doesn't matter how old and wise you are - when it comes to chatting-up somebody you find attractive, it's all too easy to end up tongue-tied, say the wrong thing or find yourself chattering nervously without any idea of what you're going on about. But once you know the golden rules that govern the art of flirting, you'll be able to breeze through the preliminaries whether you're 18 or 80.
Golden Rule: Don't Just Talk, Listen
Nothing, but nothing, is worse than being forced to listen to somebody who talks and talks without letting you get a word in edgewise. Try to suppress your jitters, as nervousness can often make you feel compelled to keep talking. If you're the sort of person who's liable to go off at a tangent while discussing a particular topic, stick closely to your original point to avoid complicating the conversation.
When the other person's replying, pay attention to what they're saying and base your next point around their ideas rather than your own. So if they start talking about their job in a cocktail bar, don't start holding forth about your favourite places to drink - show you're interested in their opinions by asking if it's difficult learning to mix cocktails, or get them to recommend you something from the bar.
Golden Rule: Lead the Conversation
Awkward silences always crop up when you're talking to anybody you don't know very well. In itself, this isn't a bad thing, but think about chatting to your neighbour, the people at the gym or new colleagues during your mid-morning break, and you'll realise that you usually see these pauses as the signal to finish your discussion and move on - which isn't something you want to happen while flirting.
Once you've finished making your point, don't just expect the other person to pick up the conversational thread. Ask them a question geared towards finding out more about them - even if it's just a simple 'what do you think?' This takes the burden of finding something to talk about off them, makes them feel you're interested in what they've got to say, and neatly avoids any sort of awkward pause.
Golden Rule: Make it Plain You're Interested
There's a subtle difference between a friendly conversation and a flirty one, and it's essential to make the distinction without descending into lecherous innuendo. The most important thing is to make your interest known by paying the object of your interest compliments - without getting too personal.
Find neutral ground, such as jobs or hobbies, and after using the rules to find out more about what they do, follow it up with a compliment - 'You must be brave/intelligent/creative to do that'. As the conversation progresses, you can comment on their appearance, but stick to non-sexual details, such as the colour of their eyes or hair.
When complimenting clothes and jewellery, it's much more charming to say 'that top/pair of shoes/necklace looks great on you, I like the colour/detail just here' than it is to go into ecstasies about the quality, style or cost showing off their innate sense of style. Apart from sounding over-the-top, you know they've got excellent taste - they're flirting with you!
Golden Rule: Remember the Key Seduction Techniques
Trying to impress somebody with grandiose words or gestures usually has the opposite effect - people start wondering 'if they're trying this hard to make themselves look good in front of me, do they spend the rest of their lives acting the same way?'
There are two things that never fail to seduce people: interest in themselves and confidence. Demonstrate the first by paying attention to what's being said (which you should be doing anyway if you're following the rules) and acting on it.
This also applies to their actions during your chat - there's no point buying champagne to show your wealth and taste in wine if they've been on pints of lager all night, so return from the bar with whatever they've been drinking previously and say 'I noticed it was lager/white wine/orange juice, I hope that's all right.' Even if they were planning to get something different, you've shown you've been paying attention to their tastes and they'll be happy to accept.
Actions like the above also show confidence, the second of people's big turn-ons, and the best way to promote a confident image is to be comfortable with yourself. Whether you're naturally outgoing or a shy introvert, respond to people as you would normally - after all, you want them to like you 'as a friend' too. And if they make their excuses and leave - hey, you're now armed with the tools to find somebody who likes you for who your are, so go out and do it.
You might also like...