Choosing Clothes for Women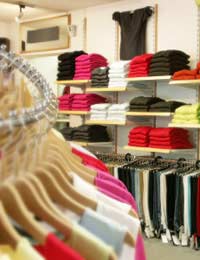 When heading out to choose clothes think about why you are going out, if you have an event to go to then think about the dress code.
You will probably already have an outfit in mind or at least the style and look you want to go for, try and stick to this, it will save a lot of confusion when it comes to the night and you have chosen two dresses that you aren't sure about.
Make sure your shoes and accessories also match for the occasion, although the main item of your outfit might be very formal, any jewellery that is worn with this will also have to be quite formal.
Your Style and What Looks Good
If you see yourself as having a definitive style then feel free to stick to it, it will be what you feel most comfortable in. However, if you find that you need to stray from your style a little bit to achieve the right look but are struggling being away from the norm then try to adapt the styles you already wear to a new style.
For example if you usually wear denim skirts and leggings with flat shoes try a simple black skirt, some coloured tights and some simply black shoes. This doesn't pull you too far from what is comfortable but it is different and might be more suited to the look that you are going for.
You should know what suits you out of your current wardrobe, try and find similar styles in different colours and patterns to get an instantly updated look. If you are trying something new then take along a friend or family member and ask for their advice.
Shoes and Accessories
Try and choose shoes that you know you will wear, a gorgeous pair of high heeled green stilettos might be tempting but it is very likely that you will have little to wear them with. A small heeled pair of black court shoes might not be as appealing but you will wear them so many times more as they will go with everything and are practical.
When buying heels think about where you are going, if you are going out dancing then a lovely pair of six inch heels will have you wanting to go home by 9pm, try and stick to flats or low heels so you and your feet aren't screaming in agony by the end of the night. If you are going to a sit down meal and are confident that you can walk from the car to the bar to the table and back to the car in heels then wear them and savour those brief moments when you can show them off.
If you have a good collection of accessories then you can experiment with how they can change a look, beads tend to give an outfit a more bohemian look, pearls a more classic look and simple chains can make an outfit look more girly. Experiment, ask friends and family what they think and take a look online and in fashion magazines for how others match their accessories to their outfits.
You might also like...