Winter Fashion Trends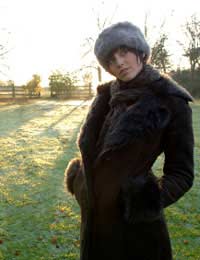 This winter looks set to be one full of quirky trends, over the top statement accessories and a 80s influence. Keep warm with these gorgeous trends this winter.
Fur Coats
We aren't talking real fur here, faux fur coats are on sale from high street shops to the designers. Not only with a big fluffy coat keep you warm as the temperature begins to drop but don a pair of big sunglasses too and you'll be left feeling like a movie star. Choose something that is a real fashion statement and over the top, this winter is all about turning heads. If you don't want to wear a full fur coat then look for something with fur detail around the cuffs and collar, this still gives you that beautiful glamorous look.
Sequins
From sequined blazers to sequined leggings anything shiny and eye catching is sure to be on trend. For those of you that aren't accustomed to wearing such glitzy clothes start of with a simple sequined scarf. A great way to jazz up any outfit is with a sequined, silver blazer. These are widely available in high street shops; in fact most shops on the high street are currently awash with glitter and sequins.
Shoulder Detail
This is a trend sucked straight from the 80s, shoulder pads are back. Look for that little black dress that has pointed shoulder or mix two trends and find that long sleeved black top with sequined shoulders. Plain tops, dresses and jackets with shoulder detail work best, this detail could be the shape of the shoulders or some sort of embellishment.
Tweed
Tweed needn't be something that is looked upon as being for the older generation. It is being done so fashionably now, coloured tweed skirts are a must have for this season. Pair a purple or red skirt with a black top, thick tights, boots and a wide waist belt. This is the perfect way to continue wearing skirts into winter.
Over the Knee Boots
Boots that come just over the knee are perfect for winter wear. They keep more of your legs warm and look fabulous with some warm, thick, coloured tights. Either pair them with a new skirt or wear them over skinny jeans. These sorts of boots are available from flats to ridiculously high heels, flats are brilliant for a practical look and heeled ones will certainly turn heads on a night out.
Over The Top Prints
Look out for dresses this season that really stand out: Bright colours, leopard print and other bold patterns are taking over the streets. Not only do these busy dresses look brilliant they also flatter all figures.
Boyfriend Blazers
These are oversized jackets with a rather masculine feel to them. These are great for the office or can be worn on a night out. Make them look a little more girlie with some high heels, skinny jeans and big accessories. If you want to go for this look on a budget then steal your man's jacket, roll up those sleeves and head out on the town. (Although, maybe get his permission first.)
You might also like...