What is Appropriate to Wear for Wedding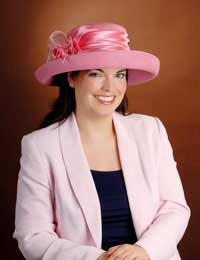 Weddings can be joyous occasions, but you need to be careful about what clothing you wear to one. While you do not want to show up underdressed, you also do not want to call attention to yourself by being overdressed. It is the bride's day and you should never upstage her! There are ways you can still be in fashion yet also appear secondary in appearance to the bride.
Appropriate Styles
First of all, you should know what type of wedding you are attending. Most wedding planning will include a tone for the wedding. Is it going to be casual day, casual evening, semi-formal day, semi-formal evening, formal day, or formal evening? The tone of the wedding will give you a clue as to how to dress. If it is an informal or semi-formal day wedding, a short dress or even a suit is appropriate, but avoid black. For daytime weddings, you want something colorful, even flowery to make you look airy and radiant. For an informal or semi-formal evening wedding, wear a cocktail dress.
For a formal day wedding, a short dress or suit is still appropriate, but to dress things up a bit, you may want to add a hat or gloves. For a formal evening wedding, a long dress or even a dressy cocktail dress is appropriate. A dress with beading or a wrap adds to the formality of the look. Some weddings are ultra-formal. For those, a long gown is best, but be sure to accessorize with diamonds and furs if you can.
Dos and Don'ts
There are definitely a few fashion tips you should follow as far as your wedding attire is concerned:
Do wear something feminine: You want to look pretty, but you want to avoid sexy clothes that make you look sluttish. That means no club wear, low cut, or see-through clothing.
Do use good judgment: Sometimes, the wedding invitation will not tell you what type of wedding it is and you may not be close enough to the bride or groom to know. If this is the case, use good judgment. You will know if the wedding is being held in the daytime or at night, so follow the general rules of dress to be safe. Sometimes you can take a clue from the invitation itself. Is it very ornate or simple? If the invitation is simple, chances are the wedding will be as well.
Do pay attention to the venue of the wedding: If the wedding is outside, you need to dress appropriately. Is it hot outside? If so, you will need to dress airy. Is a fall wedding where it might be a bit cool? If so, you may want to be prepared with a shawl or wrap in case it gets cold.
Don't wear white: The most important rule is to never wear white. White is the bride's color and you do not want to compete with her. Even if you know the bride is not wearing white, you still should not wear white, as it is associated with the bride's look.
Don't wear the colors of the wedding party: If you do not know what color anyone else in the wedding party is wearing, that is fine, but, if you do know what color the maid of honor, bridesmaids, and mothers are wearing, avoid that if possible.
Don't wear black or sequins to a day wedding: Most people frown upon wearing a black or sequined dress during the day, as this type of fashion appears too formal for daywear. Also, black is usually considered a color of mourning, but it is acceptable to wear to an evening wedding.
When you are invited to a wedding, follow these simple rules, but also trust your own intuition as to how to dress for the wedding.
You might also like...