Making Your Own Jewellery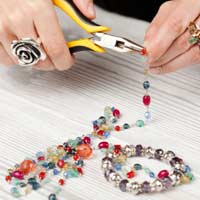 Do you ever wonder whether your latest sparkly purchase from that trendy internet shop you like – you know, the one that boasts 'all jewellery handmade!' – was a teensy bit overpriced? That's probably because it was. With a little guidance and plenty of research, it's ridiculously simple to fix and make your own gems without giving somebody a 100% profit.
Why DIY is Worth the Work
Not only does starting your own maintenance kit mean you can create and alter your own jewellery, but you're able to produce lovely personal gifts for friends using minimal tools (and minimal cash). Something that I noticed when I began making jewellery in 2006 was that many online shops were charging extortionate prices for what I soon began to realise cost them less than a pound to make. There have been many instances where I've come across a necklace decorated with just one charm, which I'd seen on a stockist website for 50p or less, on an ordinary chain on sale for £10. Now, is that fair?
This is one of those rare occasions in life where buying something in tiny separate parts and putting it together yourself is a lot cheaper than buying the item whole. Beyond anything else, it's fun – it allows you to be creative, artistic, and you end up with something that you're proud to wear and will undoubtedly draw comments.
Here Are my Basic Tips for Making your Own Jewellery:
Start simple. Find a few charms you like, a small job lot of chains, a bag of jump rings and a decent pair of needle nose pliers, and begin from there. All of this can be found on eBay, where there are hundreds of shops for jewellery makers. You can also Google these things and find websites dedicated to the craft.
Search for 'charms' rather than 'pendant', 'necklace', 'earrings' etc. Looking specifically for charms, beads and buttons will filter out the pre-made jewellery and leave you with the individual pieces to play with. A lot of shops will sell their charms in sets of more than one, which gives you more wiggle room for experimentation.
Once you're feeling a little more confident, settle on a handful of eBay shops/websites as your regular sources and start branching out to fish hooks to make earrings, headpins and eyepins for bracelets, beads and brooch backings, as well as further tools such as tweezers, wire cutters and superglue.
Don't be put off buying a piece of jewellery you like in a shop just because there's one small thing about it you dislike – why not buy it regardless and personalise it? Or, if you think can make it yourself from scratch, do so. I will often buy cheap sale jewellery if I see any kind of potential in it, and transform it into something else.
Have fun with it! Jewellery making really doesn't have to be an expensive hobby, and if you choose to sell some of your pieces, good luck to you. Start with what you like and would wear before you branch out.
If you're just not feeling all that brave, look up a few tutorials, ask for advice – you can't go wrong.
I don't think I'm being arrogant in saying that my own jewellery has developed in leaps and bounds and I can now create really intricate and beautiful pieces thanks to practice. I'm entirely self-taught which proves that all you have to start with is the will to try. Once you have the tools you can also fix pretty much anything, but even if you can't, why not just make it into something else? Jewellery making is an art; there are no rules to it, except to enjoy yourself.
You might also like...