How to Get the Perfect Shave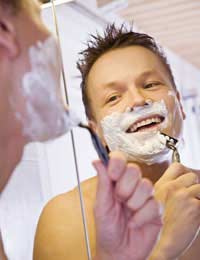 Giving yourself a perfect shave may sound like an easy thing to do, but many men find it difficult, despite all the high-tech razors and shaving gels available. Many men are able to get a smooth shave, but often end up with nicks, cuts, and razor burn because they just don't know how to do it.
The Perfect Shave
What exactly is the perfect shave? A perfect shave should leave a man's face smooth – some might say as smooth as a baby's bottom – but without any skin irritation. The perfect shave would be one without nicks, cuts, redness, or a burning sensation that many men feel when shaving.
Shaving used to be a tradition of sorts, something that fathers carefully taught sons to do or men sat in a barber's chair, taking their time to receive a hot relaxing shave with a straight blade. Now, shaving has often become a hurried, mindless thing, sometimes done with a cheap disposable razor. But, as men began to pay more attention to their appearance, they are beginning to realize that shaving, when done properly, can leave them with a smooth, refreshed face.
Prepping to Shave
The first thing you should know if that you should always shave in the shower or immediately after getting out of the shower. The hot steam opens your pores and causes the whiskers to rise. When raised, the whiskers are easier to cut off.
Before you shave, make sure you wash your face. You can use either soap or a liquid cleaner, but think of your face as your car – you always wash it before you wax it. If you don't wash before you shave, you can trap dirt in your pores that may cause bumps and blemishes. You don't have to scrub your face in a hard manner, just make sure it is clean.
Next, use pre-shave oil. Just a dime-size drop of pre-shave oil can help eliminate nicks, cuts, and irritation to your skin. Be sure to massage the oil into your beard. It will help the razor glide more smoothly as well as soften your whiskers.
Shaving
When you are ready to shave, apply your shaving cream over the oil. Using a badger brush will help raise the hairs of your beard even more. First, wet your badger brush, and then use it to whip the cream into a lather. Then use the brush to apply the lather to your beard. Try to avoid shaving soaps and canned creams because the foam makes it hard for the razor to get close to your skin.
You should pull the razor in the same direction that your stubble grows. Shaving against the grain can result in ingrown hairs. Start with your sideburns and shave downward in long, even strokes. Remember to rinse your razor frequently to remove whiskers. Because the neck area often has thicker stubble, leave it until last. This gives the oil and cream more time to relax the hairs.
Usually, just one time over your stubble will be enough, but if you want a closer shave, go over your beard a second time. However, on the second pass, and only the second pass, shave against the grain, using a very light touch.
Finishing Up the Shave
Splash your face with cold water when you are finished shaving. The cold water not only rinses your face, but also helps close your pores. Be sure to gently pat your face rather than rub it with the towel when drying.
To help give your skin a little more attention, use an after-shave. If you have oily skin, you lightly pat on an alcohol-free toner. If you have dry skin, choose a balm or moisturizer. If you have normal skin, you can use either.
Getting the perfect shave may take some time and a bit of practice. However, once you achieve the perfect shave, you will realize how much better your skin feels afterwards. You will know that the extra time and care you took with your face was well worth it.
You might also like...