Basic Style Tips for Men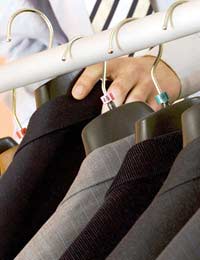 Fashion for men isn't as highly publicised as it is for women, you could look at this two ways: One, others won't know too much about what is fashionable so you have less pressure. Or two, if you want to be as fashionable as possible it is going to be a bit more of a struggle to find in trends than it would be if you were a woman.
Fashion and style are two different things, fashion is the styles of clothing that are popular at any one time where as style can be something completely individual to you. Being stylish is probably a lot easier than being fashionable, you can be stylish and look good without taking time to do all the research and spending all the money that fashionable males tend to do.
Colours
Most people have one or two colours that really suit them, it is best to find these out by asking friends and family which colours you look most striking in. It is best then to do some research on these colours to make sure you know what will go with them, no point in buying a stunning green jumper and pairing it with red trousers. For more conservative men neutral colours and dark colour work best, bright colours are good occasionally but don't overdo it, lots of colour is only good if you have a rather extreme style that is dependent on clashing colours.
Shoes And Accessories
Pairing shoes with an outfit can often be quite difficult, it is good to have two pairs of dress shoes, one black and one brown, a good pair of trainers and some more practical shoes such as hiking boots. If possible and if you feel the need then it is good to have shoes in different styles this way you can experiment with colours and outfits to see what goes, you will also never be stuck wearing a pair of shoes that don't go with your outfit.
Accessories are a matter of choice; they compliment most outfits and are easy to match. Steer clear of large heave chains, they went out of date in the 80s/90s, for necklaces try some beads or a pendant on leather thong; these are certainly more stylish and will go with most outfits. Also try experimenting with bracelets, there are so many types you can get from dark chains to beads to wide leather bands. For a wide selection of affordable accessories try a high street chains.
Dressing For The Occasion
If you have an event or occasion to attend then think about your outfit carefully, you won't look stylish if you come dressed casually to a black tie event. Take a look at the dress code, if it is casual then feel free to turn up in jeans and a t-shirt, smart casual often means you have to wear a shirt and no trainers but a shirt, jeans and a nice pair of shoes will do you fine. Smart or black tie means a shirt, no jeans, nice shoes and more often than not a tie. This means you will need at least one or two suits in your wardrobe to be able to be able to match them to the event and dress code.
You might also like...