How to Get Rid of Shopping Debt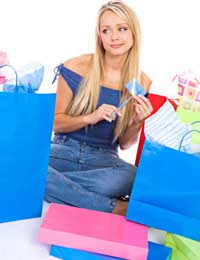 It is very easy to find yourself in debt from overspending. Shopping beyond your means is a problem that many people face. It is so easy to just pull out a credit card or store card when you see something you simply must have. By using plastic to pay for it, it is easy to forget that you do indeed still have to pay for the item.
The worse news is that if you charge and do not pay off the credit card balance that month, the item starts running up charges in interest. So if you buy a shirt on sale for £45 on your credit card, that shirt could end up costing you an extra £6 - £10 a month, depending on the interest rate of the credit card and how long it takes you to pay off the charge.
Good Ways to Get Rid of Your Shopping Debts
What are some good ways to get rid of your shopping debts? Of course, the obvious is to stop making them. But, if you find that you need to shop for certain items, be sure to shop around and get the lowest price available. Check to see when the stores are having sales and consider shopping at charity stores or car boot sales for less expensive items.
Before you make a purchase, stop and ask yourself if you really do indeed need the item. If you have three black pairs of trousers at home, do you really need one more pair? If you stop and really consider if you need the item or not, you may be surprised at how often you are making purely impulse purchases versus things you really do need. Another good way to eliminate shopping debts is to cut up all your credit and store cards. If you do not have them, you will not be tempted to charge something at the store. Only pay for an item if you have the cash on hand. If you do not have the cash, you will simply have to wait to purchase the item until you have saved for it.
Getting Rid of the Debt
Once you have gotten a handle on your shopping habits, you will need to concentrate on getting rid of the debt you have accumulated. Make yourself a budget and stick to it. Figure out how much your take home salary is and deduct from that your living expenses. Now subtract your bills, including credit cards. Always try to pay more than the monthly minimum on your credit card bills. The credit card companies give you a minimum amount due on your bill, hoping you will pay just that so they can keep charging you interest for a longer period of time. If you have a credit card with a very high interest rate, shop around and see if you can get a credit card with a lower interest rate then transfer your balances to that card. Remember to concentrate on the credit card with the lowest balance first. If you can pay that off, that will be one bill that is gone and you will feel a sense of accomplishment knowing you were able to get rid of at least one of your debts.
After covering living expenses and bills, see how much is left over for any extravagances, such as shopping, eating out, or entertainment. You should try to stick to spending only the amount you have left over for extravagances.
It will be hard to budget and get rid of your shopping debts, but remember, it took you a while to garner them. Once you begin to see that you can reduce your shopping debts, you will begin to feel much better about your finances.
You might also like...