How to Update an Outfit With Accessories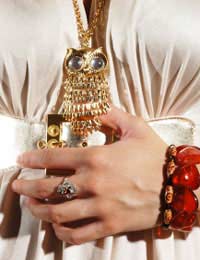 If you are strapped for cash then this is the best way to update your wardrobe without having to spend out on a whole new outfit. If you shop in the right places then you can find many different accessories in different styles, colours, shapes etc and varying in price from under £1 to over £30 depending on where you look and what you want. If you are looking for cheap accessories then go to cheap high street stores, if you have a little bit more money to spend then head over to the higher priced high street stores.
Types Of Accessories
Any accessories will change an outfit from a tiny amount to transforming the whole look, jewellery will be one of the cheapest ways to do this but you can use anything from belts to tights. Shoes are a big transformer although one of the more expensive, they can dress and outfit up or down.
Using Jewellery
Using everything such as bracelets, necklaces, rings etc can give your outfit a new look. You can dress up an outfit with a few nice bracelets and a necklace, so a more casual dress or top can be fit for a night out. Think of a style and stick to it, if you need to make an outfit dressier then think of what jewellery would achieve that and stick to that idea when you go shopping, this will prevent you from spending too much money.
Using Belts
Belts can dramatically change an outfit, waist cinching belts are good at changing the shape of an outfit. If you have quite a casual dress that flows and is comfortable but you need to jazz it up for a night out then a waist cinching belt can pull all the material in and give you a gorgeous silhouette that will make your waist look more defined and give the dress a completely new shape.
For men a belt with a large buckle added to jeans and a shirt will give your outfit a more edgy look, a shirt doesn't have to be smart, it can be casual also, try rolling up the sleeves or adding a plain t-shirt underneath.
Using Tights
Tights come in so many different styles and colours that any outfit can be instantly transformed. Brightly coloured tights can make an outfit look individual and casual and are certainly a head turner if paired with a nice pair of heels. Fishnet tights can add sex appeal to a skirt or dress, they make legs look longer and look brilliant with black shoes. In the winter if you don't want to wear trousers and have a nice pair of winter boots then a thick pair of woollen tights will keep you warm and make you look as if you are ready for any weather.
Using Shoes
Having a good wardrobe of shoes means you can wear an outfit multiple times dressing it up and dressing it down by using your shoe collection. Heels will generally dress an outfit up whilst flats will make an outfit more casual. This rule doesn't necessarily work for every flat and heeled shoe but try out some looks and experiment with all your outfits with different shoes. You will soon find what looks more suited to a walk in the park and what looks more suited to a night out clubbing.
For men this is a bit more straight forward, trainers will dress down anything including a suit whereas a nice pair of shoes will make even the scruffiest pair of jeans look a bit more suited to a fancy meal.
You might also like...