Picking Outfits for Different Occasions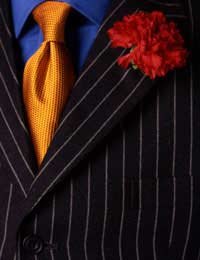 While choosing an outfit for a really important event, such as a wedding or job interview, takes time and preparation, your choice is simplified by being aware of the formality of the occasion. Some events, however, sit firmly on the borderline between formal and informal, making it difficult for you to know what to wear.
The trick is to do your homework - research the event's history, the sort of conditions you'll encounter and what will really make you stand out from the crowd. Once you've compiled your dossier, as the examples below show, it's easy to combine your new-found knowledge with your personal style and be right on the button every time.
At the Races
Invitations to sporting events are a favourite corporate tool, so whether it's horses, boats, cars or even greyhounds, you may well find yourself on parade alongside business-minded types to whom image is everything. The really tradition-heavy occasions, such as Ascot races or the Henley regatta, require an outfit on a par with a wedding - and that means formal wear and headgear. That said, both events take place around a great deal of grass, water and mud, which can make the ground difficult to negotiate.
Comfortable medium-high heels are essential - flats will leave your ankles prey to puddles, while stilettos sink into soft ground. Make sure your chosen hat or headpiece doesn't have any feathers, flowers or delicate ornament that could get ruined by rain or high wind, and consider a hatpin for securing hats.
The earthier end of the scale involves hospitality at football grounds, Formula One races and rugby pitches. Overly formal clothing here is liable to mark you out as a clueless bimbo, but don't sacrifice style just to fit in. Jeans tucked into long, low-heeled boots are a good way to go - they'll keep you warm and protected from the mud. Combine with a hip-length jacket and a polo neck, before braving the cold of the stands while attracting admiring glances from the anorak-wearers
Dinner Party
Being a guest at a dinner party's all about being as gracious as possible to the people who invited you - and that means not trying to outshine your hostess in the fashion stakes. Stick to a palette of plain, dark neutrals that'll make you look classy and sophisticated without screaming for attention.
Wide-legged trousers are the ideal basis for a dinner-party outfit, as they're flattering to all figure types as well as being comfortable to sit and stand in. A longer-length top will also cover any bulges that appear after you've eaten, but make sure it's fitted at the waist so the outfit doesn't look shapeless.
Jazz everything up with really sumptuous accessories - a fabulous necklace or earrings are the perfect ice-breaker when talking to women you've never met before. As for shoes, flats or low heels are best in somebody's else's home, as stilettos can mark linoleum and carpet.
'Informal' Socialising
The phrase 'Oh, it's going to be very relaxed, just a few friends' is no excuse for dressing sloppily at a barbecue or cheese and wine evening. Even if you know everybody at the event, they'll want to see you've made an effort to look good when your hosts have taken the trouble to hold a party.
Non-scruffy jeans (no holes or stains) are perfectly acceptable and will ensure you're comfy. Add glamour with an elegant top - a fitted cardigan over a beaded camisole, perhaps, or a kaftan-style tunic with embroidery around the neckline, to lift you out of the realm of T-shirt wearers without looking as though you've tried too hard.
Heels look overdone with informal clothing, so pick out your favourite ballet pumps or embellished flip-flops for a relaxed-but-smart look. Jewellery should be kept to a minimum, with bold necklaces best left at home in favour of dangling pendants, chunky bangles or decorative hoop earrings.
Parents' Evening
Nobody wants to look like an inappropriate parent in front of their offspring's teachers and fellow parents, so avoid exposed flesh whenever possible. Low-cut tops, short skirts and - again - stiletto heels will all give out the wrong message.
The temperature inside schools can be wildly unpredictable. Combat this by layering your clothes, putting a smart jacket or long, belted cardigan over a thinner, boat-neck top and perhaps adding a scarf around your neck to combat chills.
Skirts will expose your legs and ride up when you sit down - stick to trousers with heels for a sophisticated look. Bear in mind you'll probably be standing around waiting for lengthy periods of time, so your shoes will need to be comfortable.
As all of these scenarios involve people judging you by your outfit, a good trick is to look in the mirror and think how you'd react if you saw the same clothing on another person. If anything negative pops into your head, or you're concerned about any aspect of the ensemble, take it off. Remember - ten extra minutes spent dressing is far easier to cope with than an entire evening ruined by feeling badly dressed.
You might also like...