Acceptable Attire at The Office?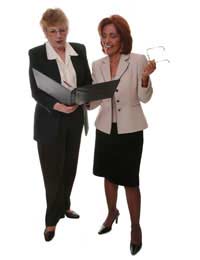 It's a hard life being a City gent - all those grey and navy pinstripes, day after day. Thank heavens most of us have the freedom to dress a little more expressively…or do we? Office workers are usually expected to dress 'smartly' - but what a world of possibilities that one word covers. Here's some advice on what will look great without being over-formal, and what you should save for after the nine-to-five's over.
Keep It Respectable
Showing too much arm flesh or cleavage during the day is tacky, so avoid scoop-neck or sleeveless tops. Don't wear V-necked jumpers or dresses on their own - layer them over vests or shirts for a smarter look. In summer, stick to short-sleeved items rather than sleeveless ones - and if it's really too hot to have material around your armpits, make sure you wear tailored sleeveless dresses or shell tops rather than baggy vests that'll end up wrinkled and untidy.
Bare legs aren't appropriate except on the hottest days, so always wear tights with your skirts. Pick as dark a shade as possible - flesh-coloured tights only look right if you're over 65, and bright colours are too frivolous. Skirts should never be more than a couple of inches above the knee. When you buy a skirt, check you can sit down without the hem riding up past this level, or you could end up raising some eyebrows during meetings.
The golden rule is to avoid extremes. If you think something's too long, short, flimsy, thick, bright or glitzy for the office - it probably is. No matter how outrageous your style outside work, stick to the middle ground while you're at work.
Black is Black
Ah, black - that wonderful staple of skirts, trousers, dresses and shoes that we pull out of our wardrobe for an instantly professional look. The problem is, it's so easy to wear that you often find yourself with an entire wardrobe of black 'work clothes' without realising it - and once you've been seduced, it's tricky to break the pattern.
Black's not the only staple basic that works with a lot of different things. Try different shades of grey or brown on your bottom half to complement your usual work tops. The grey will also match your black garments - just don't wear black and brown together. Alternatively, add fabrics like tweed, wool or (if you've got a broad dress code) velvet to your wardrobe, which give an outfit texture and stop it looking dull.
Smashing Separates
Every working wardrobe needs to have its basics - things you can team with just about any other piece of clothing, that fit perfectly and make you feel polished when you wear them. Make sure you've got:
A tailored jacket. The ultimate office basic, it can be worn over dresses, with skirts or trousers to add instant professionalism. Pick one in a neutral colour that harmonises with the basics in your wardrobe, in a good fabric (no polyester blends, please) that won't stretch or go shiny. Ensure it's not too tight-fitting - you'll want to wear it over jumpers in winter and thinner tops in summer.
A plain, straight knee-length skirt. Trousers might be a handy stand-by when you want to be low-key, but the woman wearing a skirt to work instantly projects an image of smartness and elegance to her colleagues, bosses and clients.
Wide-legged, crease-front trousers. Excellent for the days when you want an outfit that doesn't take much preparation - you can add anything to these and they'll still look fresh, crisp and efficient.
Vests, short- and long-sleeved tops in black and white, that can be layered with other garments to minimise flesh exposure and keep you warm.
One pair of really smart shoes that go with your skirt and trousers. These should be made of leather for low-key elegance, and have at least a one-inch heel to give you a more flattering overall silhouette.
Seasonal Variations
The trickiest part of office dressing is finding clothes that look stylish in the outside world as well as appropriate behind our desks. This is particularly hard during seasonal changes, when the central heating or air-conditioning's been switched on, but the temperature outside's telling a different story.
Layers of different thicknesses are great for combating climatic changes. Put your thin jersey wrap dresses over a polo neck in winter, or wear a camisole under your jacket instead of a shirt when it's hot. Instead of one thick jumper, wear two thinner ones in contrasting colours and styles - then simply remove one if you're too hot.
Finally, make your look your own by adding fabulous accessories. Apart from allowing you an expression of your 'outside' look during working hours, great belts, scarves or jewellery show your bosses that you're not afraid to stand out as an individual and take the initiative - two things they'll always be pleased to see you doing at work.
You might also like...