Fashion: Being Brave With Colour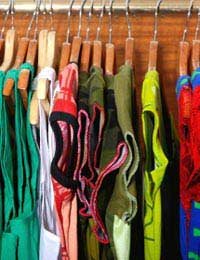 If I had a quid for every time I've heard "I wish I could wear something that colourful", I'd have enough cash to buy each person who said it a full rainbow wardrobe with a few pennies left over for matching nail varnish. Frightened of being bright? No more excuses – it's all in the mind.
Finding Your Scheme
I have a friend to whom I am personal shopping assistant because essentially, she's not safe to be let out on her own. Why? Because although she enjoys buying clothes as much as the next lady, she's automatically drawn to browns, beiges and creams in thick, unflattering fabrics purely because, through her own admission, she feels the need to hide herself. Now, she knows I don't understand this concept. I'm a big lass and over six foot tall, but to rob myself of colour, prints, sparkle and texture would be like removing my personality. Your style is a projection of who you are, and everybody is unique. So why mask it?
Don't be fooled into thinking it's about attracting attention. I'm sure it is for some, but my personal reasons for enjoying looking like a walking, talking rainbow are about having the opportunity to be creative and express who I am. I'm naturally quite shy and mostly due to my height, insecure as all women are, but I've never felt the desire to just fade into the background.
Of course, finding your colour scheme is all about experimentation. Consider what colours you like on others, and then what you think would make you feel good to wear. Buy a handful of low-cost colourful T-shirts or vests, something that gives you the chance to see how you feel in them and what suits you, whilst being able to cover up if the need arises. Perhaps even start with the accessories such as scarves, bags and even something simple like your nail varnish – I defy you not to feel cheered by having glossy orange talons, whatever the weather.
Accessorising
There are going to be instances in which you have to wear plain clothes – work, job interviews, meetings and so on, but these are the occasions in which adding a splash of colour are more important than ever. You don't have to feel stifled by blacks and greys just because that's your uniform; try a bright block colour bag, perhaps in postbox red, and pair it with a matching lipstick. If you can get away with it, why not try dyeing your hair with a subtle reddish or purplish glow for a more permanent dash of colour – it doesn't have to be about clothes and accessories.
If you're really unsure about experimenting yourself, research what goes with your colouring; for example, brunettes tend to look good in purples and reds; redheads in greens and pinks; blondes in blues and browns. Also look into what will make your eye colour stand out.
Above all, ignore anything that tells you you can't wear a certain colour for whatever reason. Try it. People say it's hard to wear orange and yellow, but there's no reason to be put off by such myths. Test it, pair it with something plain and dark to start with; let yourself shine through your clothes.
Life's too short to hide beneath drab coverings. All you need is the initial burst of confidence in your own beauty to start, and then you'll find that with the increase in colour comes a new wave of faith in yourself.
You might also like...