Dressing For an Interview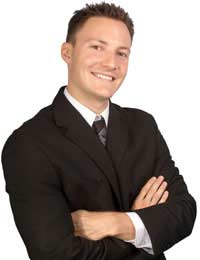 Employers give the average CV about 30 seconds' attention before deciding whether the sender is a suitable candidate for their company. It's clear that someone who spends so little time considering your entire work history isn't going to waste time making their mind up about you when you walk through the door to be interviewed. That's why it's vital to create the best possible impression from the outset - so make sure you follow these tips for an outfit that screams 'employ me!'
'So What do you Know About This Company?'
Even if you're a manual worker who wouldn't ever wear a suit in the course of their normal daily routine, it's vital to dress smartly when you meet your prospective boss for the first time. You want them to think you're dying to impress them and become part of the company, not that you couldn't be bothered to change out of your normal working attire.
If you know the job will require smart business dress, make sure your outfit is as formal and conventional as possible - plain white shirts and medium-heeled court shoes accompanying a dark suit. Adopting a classic look will instantly make you look pulled together and will show your employer you know the correct 'uniform'.
Those working in more 'creative' industries, however, could find themselves losing points for originality and style if their look's too ordinary - but that doesn't mean you should be too casual. In fields such as media, PR and certainly fashion, pick classic, tailored separates rather than a suit to give you a well-groomed air. Add a killer accessory - a striking necklace or brooch is a good choice - to show you know how to mix it up. The best choices will also provide a talking point later in the interview.
'What Advice Would you Give Fellow Co-Workers?'
Whatever your personal style and workplace demands, there are certain rules you should always observe when selecting interview clothes. The first is to ensure your outfit is well-fitting - and that means tailoring. Ensure jackets, skirts and trousers are structured to give you a well-defined silhouette and reject anything made of clinging, stretchy fabric.
Make sure the material of your clothes will look good under prolonged scrutiny by the employer. Linen or wool outfits are a bad idea because they'll crumple easily as soon as you sit down, while cotton needs to be in a blend with a synthetic fabric to ensure it doesn't end up going limp.
What you wear under your suit or jacket is up to you, but whether it be shirt, T-shirt, sweater or camisole, make sure it's a plain colour that won't detract from the smartness of your suit. If you look in the mirror and your eye is drawn to the garment under the suit or jacket, it's the wrong thing to wear.
Don't neglect your personal grooming - the effect of a crisp outfit will be ruined by scruffy hair or make-up. Take a comb, some powder and a couple of cotton buds with you and nip into the bathroom beforehand to ensure your hairstyle's neat, your face isn't shiny or sweaty and that any stray smudges on your face are wiped away. Dirty or bitten fingernails are at the top of many employers' 'no-go' lists, so ensure yours are dirt-free and neaten the edges with an emery board.
'This Company Does Not Tolerate…'
Do not, under any circumstances, wear any of these things to an interview:
Sleeveless garments. Flashing flesh makes you look more casual and thus less likely to be taken seriously - and could reveal more than you intended if you're nervous and prone to sweating.
Anything sheer. See-through clothes are more appropriate for clubbing than the office and will look cheap in a daytime setting.
Clothes you think make you look 'sexy' - above-the-knee skirts, scoop-neck tops or high, skinny heels. All of these give out entirely the wrong message to the interviewer, who should be concentrating on your cerebral skill rather than your physical attributes.
Eye shadow or lipstick. Apart from the risk of them smudging or sliding off before you get to an interview, too much make-up is not appropriate in a business environment. Go for a natural look and hold back on the colour.
First impressions are everything in the business world - they are responsible for establishing trust between parties and putting across the image of the company. If what you wear to an interview doesn't demonstrate to the interviewer that you're capable of doing both these things, you might as well leave without saying hello. Remember, there's a reason 'smart business dress' is so named - those adopting the correct attire tend to be the ones whose brains allow them to get ahead.
You might also like...