Complementary Colour Schemes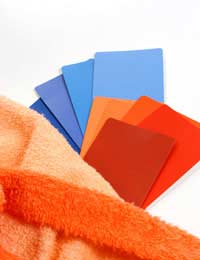 When moving house, redecorating is usually our top priority. Apart from the fact your taste may not be the same as the previous owner's, choosing colour schemes and furnishings is one of the most exciting parts of settling into a new home. However, unlike other style choices, mistakes in décor can be horribly expensive to put right - so follow this advice if you want to avoid living with lime-green walls for the next 10 years.
Before you go shopping
Start by thinking about your favourite colours and decide whether it's practical to use them in decorating. If you're a fan of scarlet and purple, painting the walls in such strong colours will probably leave you with a headache, but they'll work well added as furnishings or detail against more soothing background tones.
Very few people start from scratch when they're furnishing a house, so if you're on a tight budget, make sure whatever you're considering tones with your existing furniture. This doesn't necessarily limit your options - if the striped wallpaper you've set your heart on doesn't go with your check sofa, just find cash in your budget for recovering the settee or buying a throw to put over the top.
Bear in mind décor's one of the most important things potential buyers take into account when making up their mind about a property. The bolder and more eclectic the choice you make, the harder you may find it to sell your home later, so make sure you look at the long-term view when you're planning your look.
Getting inspiration
It's often difficult to visualise how an entire room will look in your head, which is why scouring photographs in interiors magazines can be helpful. You'll get a great idea of the way certain colours combine and the size of room you should consider using them in. And, of course, taking tips from the professionals is bound to give you a host of fresh ideas for your home.
If you're really not great at knowing which colours go well together, get your hands on a colour wheel - a circle containing all the hues that can be created by mixing the three primary colours together, from their lightest to darkest shades. Use this to plan your use of colour - those close to each other on the wheel will harmonise well with each other, while the ones on the opposite side are contrasting.
Once you've made a decision about the colours you'd like to use, get a more specific idea of shade by heading down to your paint or wallpaper supplier for some samples. Paint manufacturers' services include being able to custom mix shades to match a specific item's colour, so take along fabric samples or photographs of cherished ornaments if you want everything to harmonise perfectly.Ask for sample pots of anything you're thinking of using, and then test them on a small area of wall at home. This is a great way of comparing two colours side by side, or finding out how well they match each other, before you commit to painting the whole room. As samples are free, don't limit yourself to one or two - get ten and test a variety of combinations.
Do's and don'ts
Do..
Make sure you get a shade card from the paint supplier. This will make it much easier to match or contrast colours when you're shopping for soft furnishings.
Don't…
See very dark colours in a small room, as it'll feel as if the walls are closing in on you.
Do…
Add accent colours to 'lift' the look of a room. Neutral shades or toning hues of a similar colour will be thrown into relief by a splash of something bold and contrasting in your cushions, rug, pictures or ornaments.
Don't…
Use a number of very bright, contrasting shades in the same room. If you paint two walls blue and two walls yellow, you'll feel like you're living in a student flat.
Do…
Think practically. There's no point choosing a cream colour scheme if you've got a large dog who enjoys rolling in mud puddles and a destructive two-year-old child.
Don't…
Use lime green. Ever. You'll soon get bored with it.
Finally, use the homes of those around you to make an informed decision about your décor. A well-decorated room will make anybody walking into it feel welcome and relaxed. Think about how you react when you visit friends' houses and learn from their successes and errors to create a haven you'll be proud to invite people to share.
You might also like...