Furniture on a Budget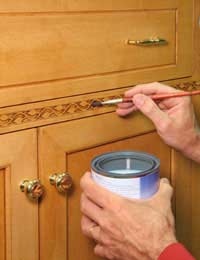 How many times have you stopped to lust after a gorgeously becushioned sofa in a department store window, admired a comfortable-looking bed on a shop floor or wished for the sort of claw-footed tub millionaires of bygone days used to bathe in? Stunning furniture needn't cost the earth - the trick is knowing where to look for the basic materials and how to dress them up to look fantastic.
Buying the Basics
With pressure on manufacturers to produce high-end goods as cheaply as possible, even more expensive pieces may not be of the best quality - so why spend more money? Purchasing bog-standard goods means you can easily replace them if they break, negating the need for additional guarantees and tedious calls to manufacturers.
Large home and garden warehouses, catalogue shops and furniture outlets like Ikea or MFI sell a huge variety of self-assembly furniture, which is cheaper and easier to transport than larger pieces. Self-assembly stuff's got a bad reputation among DIY-phobics, but it's easy to put together if you have the right tools. Invest in a set of screwdrivers (and this does mean a set, not just one or two random sizes) to tackle any type of fixing, as well as a power drill for making holes to fit hinges and handles.
If you can't face the thought of hours with dowels and drill bits, second-hand (not antique) shops can be a good source of older, well-built furniture and particularly good for smaller pieces like chairs. The odd scratch or mark is fixable, but don't buy anything if it appears to have a major structural flaw. These include holes in wood, wobbly joints (apart from hinges) and splintered edges.
Auction websites can be a brilliant way of picking up all kinds of bargain furniture, from rocking chairs to roll top baths. Sites like EBay allow you to search for items within a specific distance of your own postcode, so you won't buy anything only to find you've got to drive to the other end of the country to pick it up.
Consider The Alternatives
Desperate for a dressing table or champing for a chaise-longue? It's often tricky to buy such un-versatile pieces cheaply, but easy to create your own versions from similar furniture. For example, adding a mirror to a basic desk gives you your very own dressing table - often with more surface area, drawer space and shelf storage than a 'real' one, and for considerably less money.
Low beds or futons with removable 'arm' cushions can be heaped with extra pillows at one end - and hey presto, your very own chaise longue. And inexpensive bookcases with adjustable shelves easily replace higher-priced entertainment units as storage for CDs, DVDs, videos and even board games.
Jazzing Up Plain Pieces
The simplest way to brighten up factory-issue furniture is with a coat of paint - matt, gloss or even metallic. Adding stencilled shapes in a contrasting colour will personalise the piece still further, so scour Internet libraries for designs to suit your purposes. Or go craft-mad and try all those old childhood favourites - potato prints, marbling or spattering coloured paint with an old toothbrush.
High-end wallpaper often works out too for your walls, but a couple of metres stuck on to plain furniture makes it look luxurious. Cover scratches in second-hand tables by papering the top, then adding a sheet of glass to protect the pattern, or paste elegant designs onto drawer fronts (bear in mind this will require another metre or so to allow you to match the pattern between drawers.)
Mirroring furniture might not sound immediately obvious, but it's a classic technique that smacks of a bygone era. Buy cheap mirrorboard from craft suppliers, then apply it to a square-legged table (you need to cover the whole piece to get the right look.) Add a floral stencil design in white paint around the edges of the surface and down the legs for an 'engraved' effect.
Give Old Stuff A New Lease of Life
If your old stuff's looking a bit scruffy, try getting it professionally cleaned before considering a replacement. Dry-cleaning suite covers, bean bags, rugs and curtains will brighten up colours and restore pile so it feels like you've got a brand new item even if it's years old.
It's amazing how different your existing three-piece suite or bed will look if you add new coverings. No need for a different set of upholstery - a sumptuous-looking throw in velvet or faux fur, plus a couple of elegantly embroidered or beaded cushions, will add an instantly glamorous feel. Heaping the cushions looks wonderfully comfortable, but make sure you combine the decorated pillows with plain ones so they don't get damaged (and to keep your budget down.)
When it comes to furniture, a few well-chosen pieces look far better than a lot of cheap, tacky stuff crammed into a room. If you can't afford that article you're dying to buy, remember less is more and devote your energies to making what you have look gorgeous. That way, even if everybody you know's bought the same Ikea chest of drawers as you, you can be assured yours is a unique piece.
You might also like...