Updating The Look of Your Home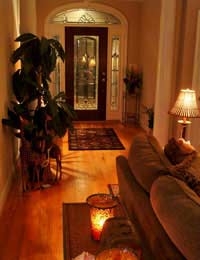 Giving your house a makeover needn't involve expensive building costs, replacing all the furniture or spending a fortune on wallpaper - the simplest of changes can make a big difference to the appearance of a room. After you've read these ingenious and inexpensive tips, you'll be keen to change your interior style every month.
Move the Furniture
When you acquire new pieces of furniture, your first thought's usually 'where will this fit into my house?' - meaning you're not considering moving your existing belongings to accommodate them, which can lead to rooms looking cluttered.
Shifting furniture that's been in the same place since you moved in transforms a room's appearance. Begin by drawing the outline of the room on paper, marking in the walls' measurements. Then use a tape measure to assess whether different pieces of furniture will fit against other walls, and draw them in on your plan before beginning to move things.
Consider moving furniture into other rooms, depending on your needs - if you rarely open that chest you've got in the bedroom, putting it in the living room, adding a throw and some cushions immediately provides you with extra seating.
Finally, don't think you've got to keep things against the walls. In big rooms, you'll be able to create different areas by putting sofas or tables across the space, dividing it into zones for watching TV, eating or working.
Maximise Light
Light's the single biggest factor in your first impression of a room. The biggest spaces look dark and dingy without it, while smaller ones can end up feeling claustrophobic.
Windows are obviously important in letting light through, so make sure you haven't got any tall furniture blocking them and keep the curtains open. If this impinges on your privacy, add nets or modern voiles, which will let in light but won't allow anybody to see in.
Dark wood doors and deep-toned wall colours absorb light rather than reflecting it, which deadens the look of a space. Consider painting doors or replacing them with lighter wood versions, as well as using a lighter palette in small or badly-lit spaces.
The ultimate reflector, of course, is a mirror, which has the added effect of making a room look twice its actual size. Putting in a large mirror at head height in a narrow hallway, for example, makes it look wider instantaneously - as well as allowing you to check your make-up before you leave the house.
Add Accessories
Just as adding must-have accessories is a cheap and highly effective way of modernising your tried-and-tested clothes, the right touches in your home will lift its look for very little outlay.
A good trick is to buy cushions, tablecloths, curtains and inexpensive ornaments such as vases in one or two strong, vibrant colours, then add them to a room filled with neutral furniture, making the sharp accent shades stand out. When you get bored with the colours, pack them away and buy a different shade, or mix and match different hues for an entirely different look.
A New Coat of Paint
This doesn't necessarily mean stripping the walls and removing all the furniture while you coat the walls with this season's shade. Adding smaller touches of colour or interesting features using paint provides a room with an effective focal point.
Painting one wall of a room a different colour from the rest draws the eye, and a darker colour can be a great backdrop for displaying pictures or interesting knick-knacks. Make sure the shade you pick tones with the rest of the room's contents, however, or you'll end up with a student-style mishmash that screams, 'I can't afford enough paint'.
For something a little more creative, stencils are a versatile way of brightening up the walls. Online libraries have vast selections for you to choose from, so rummage around to find something that suits your room and character perfectly. Add a single repeating motif or go to town on one giant design - it's up to you.
Storage Solutions
The best solutions to the dilemma of finding a 'place' for your clutter combine practical storage with use as furniture or ornament. Tuck away children's toys, hobby materials, coats and shoes in under-seat compartments, or buy a 'magazine table' that incorporates drawers for publications and papers. Large, attractively-covered storage boxes are also widely available and can be left on shelves or table tops for stashing smaller items.
Have fun experimenting with different looks and colours in your home. Just like fashion, it's meant to be about mixing things up to find your individual style, so it's not unnatural to change things every year or even every few months. In fact, with solutions this cheap, why not take inspiration from the designers' spring and autumn collections and update your home to complement your wardrobe every season?
You might also like...