Create Your Own Centrepiece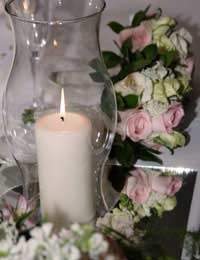 Centrepieces are a lovely addition to any part of the home, but if you purchase a pre-made one at the store, they can often be expensive. Did you know that you could create your own centrepiece for a fraction of the cost?
Fruit and Candle Centrepiece
You can easily create a lovely Thanksgiving centrepiece that will not only look great on your table; it will smell great as well! For this centrepiece, you will need a large clear glass bowl, one small glass tumbler, one cup of fresh cranberries, six or more red apples, six or more small oranges or tangerines, three variegated mums, and one tall, dripless candle.
Place your glass tumbler in the centre of the bowl and arrange the oranges and apples around it. Place the candle in the tumbler and surround it with cranberries to keep it standing. Arrange your three mums on top of the fruit and you have a beautiful centrepiece for the table.
Baby Shower Centrepiece
If you are hosting a baby shower, here is a way you can create an inexpensive, yet delightful centrepiece. Purchase a medium sized basket at your local craft store. If you know the sex of the baby, you can paint the basket blue for a boy or pink for a girl. Insert a plastic dish with floral Styrofoam in the middle of the basket and fill it with pink or white roses, baby's breath, and greenery. Purchase the appropriately coloured ribbon and tie a bow on top of the basket. It will look like it came from a florist, but will be much more reasonable priced.
You can also use balloons as a centrepiece for a baby shower. Purchase a few Mylar balloons at the local party store and tie the string's to an inexpensive stuffed animal such as a bear or duck. The only thing to remember is you will need to shorten the ribbons on the balloon before you tie them to the bear - you do not want your balloons being too high and obstruct the view the rest of the room.
Decorative Balls Centrepiece
For this centrepiece, you will need a bowl, platter, or tray, decorative accessory balls (which can be purchase at your local crafts or party store), between six and twelve roses or any other type of flower you like, leaves (optional), and baby's breath (optional). Remember that fresh flowers can last several hours without water, but do not make this arrangement too long before you want to use it or the flowers will wilt.
Arrange the balls in the bowl or on the platter or tray. Cut your rose stems so that they are between three and six inches long. Place the roses between the balls. If you choose to add leaves and baby's breath, add that between the roses and balls.
Floating Candles and Flower Centrepiece
You will need three to five open roses, a bowl, and floating candles for this centrepiece. Place your bowl and fill it about three-fourths of the way full with water. Cut your roses, leaving a little less than a one-inch stem on each. Float the roses in the water then add a few floating candles.
You can create your own centrepiece for any occasion by following these simple instructions. You can also expand upon these examples and create your own elegant, yet effortless centrepiece.
You might also like...