25 Home Decorating Don'ts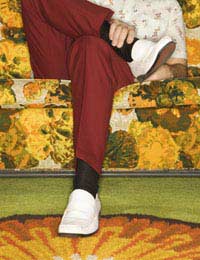 Most people want their homes to look nice, but many of us fall for decorating "don'ts" - that is, things that make our home look dated, clutter, or uncared for. It may be something that you see every day, but just never notice that it is a "don't" until it is pointed out by a designing expert.
Here are the top 25 decorating don'ts according to design experts:
#25 Toilet Rugs
These are the circular rugs that go around the toilet, which usually comes with a matching seat cover. You may not realize it, but these rugs can contain bacteria from being so close to the toilet and shower. Having a rug on your bathroom floor is great as long as it is a rectangular one that is placed away from the base of the toilet. And just skip the rug seat cover all together!
#24 Too Many Photos
Most people like to display photos, but you can have too many. If you have photos covering your walls, tables, and piano, reconsider just keeping a few out then rotating them from time to time.
#23 The Ignored Foyer
The foyer is the first impression someone gets of your house, but it is often neglected. Hanging a beautiful mirror in your foyer not only decorates it, but also gives the illusion of space.
#22 Naked Cables
We live in an electronic world, so you probably have many cables around the house. The key is to keep them corralled. Use a staple gun to attach wires along the baseboard or purchase cord covers to help keep the cords out of the way.
#21 Out of Place Themes
The physical location of your home probably has a certain theme and your house should more or less reflect that. That is to say, if you live in Alaska, having a summer wicker theme in the living room will feel forced. Use theme accented pieces rather than doing your whole room in a theme to help ease in what you love.
#20 Outdated Accessories
Take a good look around your home. Does it have a 60's, 70's or 80's feel to it? Take a close look at things like cabinets, hardware, and lighting to help update the look of your home.
#19 Lopsided Furniture Arrangements
Your furniture should be arranged in such a way that it doesn't look unbalanced. You don't want all heavy furniture with nothing to bring your eyes up from the ground level.
#18 Keeping Things You Dislike
Sometimes it may be a gift or something you just paid a lot of money for, but don't hang on to things you don't like just out of guilt. Give it away or donate it to a good cause!
#17 Too Formal
Rooms can look formal while still being accommodating to guests. Keep a good balance between formable and welcoming.
#16 Uncomfortable Furniture
Sure, it may look nice, but why would you want furniture in your home that is uncomfortable? This is neither pleasant for you or your guests. Make sure the back of chairs and couches are not too high or too low.
#15 No Traffic Pattern
There should be a clear traffic pattern through your rooms. If not, you need to rearrange the furniture. Without a pattern, you and guests may find yourselves bumping into things.
#14 Everything Matches
Matching is good, but too much matching can be maddening. Make your room a little eclectic and it will be much more warm and hospitable.
#13 Following Fads
Most of us are guilty of owning a fad at some point. From beanbag chairs to lava lamps, just say no to fads and stick with classic styles that never age.
#12 Too Much Furniture
Before purchasing furniture, draw a diagram one a piece of paper of where everything should go and take measurements. Your new furniture may be lovely, but if it is too big for your room, it will look completely wrong.
#11 Too Many Colours or Patterns
Colours and patterns are good…in moderation. Too much of either will make your home look busy and distracting.
#10 Floating Rugs
These are the rugs that lay in the middle of the floor with nothing attached to them, somewhat like a flying carpet. The rug should be connected to your couch, a table, or lamp to prevent it from having the floating effect.
#9 Improper Lighting
Your room can be too bright or too dark. Investing in dimmer switches will help you have the proper amount of lighting, no matter what the occasion.
#8 Frames that are Too High
Your artwork should be hung at eye level. Hanging it too high or too low can give you and your guests neck strain.
#7 Ugly Couch Covers
Ugly couch covers are one of the worst offenses. Rather than covering the entire couch with a hideous flowery cover, invest in a simple throw blanket that can be casually tossed over one cushion.
#6 Pushed Back Furniture
Some people like to push all their furniture against the wall, but it ends up looking lined up. Believe it or not, bringing the furniture off the walls and to a centre focal point actually makes the room look larger.
#5 Ignored Windows
Windows are often ignored, which is a shame. Window treatment is an inexpensive, but excellent accessory to compliment your living area.
#4 Fear of Colour
Some people don't use bold paint Colours they are afraid of using them incorrectly. Instead, they end up with a boring, beige house. Remember that if you paint a room and don't like it, you can always paint over it.
#3 Too Many Knickknacks
If you have many knickknacks, set out a few and rotate them occasionally. Too many will make your house look cluttered and unorganised.
#2 Too Many Pillows
A few throw pillows look nice on a bed, but you can have too many. Not only does your bed look uncomfortable, it also takes time each night to remove all the pillows then put them on again the next day. Limit the bed to a few accent pillows.
#1 Fake Flowers
Many people love them, but most decorators view fake flowers as dust gatherers that don't bring anything to your living area. Real flowers will look and smell better, so use them whenever possible.
Each person will have different ideas about decorating, but if you follow even a few of these tips to remove "don'ts" from your home, you will probably be able to notice a refreshing difference.
You might also like...