How to Talk to Anyone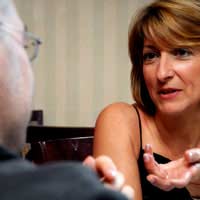 Oddly enough, one thing that many people have a problem with is talking. He or she may be fine talking to family and friends, but when around strangers or someone he or she does not feel comfortable with, he or she immediately freezes up. They find themselves unsure of what to say and often end up feeling like what they did say was foolish, which only makes matter worse.
It can happen when you are talking to your boss about an important project or just making small talk to a stranger on the bus. Some people are fine when talking to individuals, but when speaking before a group, they freeze up with fear. Many are so overwhelmed with anxiety, they find themselves sweating or with clammy palms.
What tips can you follow in order to be able to talk to anyone?
Mistakes
Don't get so caught up in the fear of making mistakes, that you allow it to paralyze you, especially when speaking before a group. You need to realize that everyone makes mistakes when speaking. If you are talking to a group, the best think you can do to help your confidence is to know your subject matter well. If you make a mistake, do not panic - treat it with humour. Not only will it make you more relaxed, it will probably amuse the audience as well.
Freezing
It's everyone's worst nightmare - you are talking to someone and you get a bit nervous and completely freeze up. When giving a speech, memorize your opening and closing, but do not memorize the whole speech. Have topic points for the middle and know what you are going to talk about, but by avoiding memorizing it, you can avoid hitting a spot where you have forgotten what to say and panicking.
Be Yourself
We are often so afraid that people will not like us for who we really are that we try to be someone we are not. This leads to us saying things we are not familiar with and we come off as phony or unpleasant. Just simply be yourself. People like a person who has a warm delivery and who has a comfortable conversation style. This comes most easily when we are being ourselves.
Silence
Many people fear being silence during conversations or speeches. You need to remember that what may seem like a lifetime of silence to you is probably only a few seconds to your listeners. Do not panic during times of silence, just relax, and move on with your conversation or speech when ready.
Sharpen Your Skills
For some people, carrying on a "natural" conversation is something that needs to be learned. When you are out, listen to others to see how they are carrying on a conversation. Are they listening to the other person? Are they asking questions? It is almost like doing homework, but it will help you learn what works and what does not.
Also, challenge yourself. If you are at a social event, walk up to someone and start a conversation. The more experience you have, the more comfortable you will feel talking to anyone in any situation. You can talk about sports, the weather, current events, movies - just be prepared to say something interesting and initiate the conversation!
Ask Questions
As vain as it sounds, most people love to answer questions about themselves. When you are in a conversation, remember to ask the other person questions. However, notice his or her body language and manners. If the person turns away from you and mumbles, they are probably not interested in talking right now.
Listen
One of the biggest keys to becoming a better conversationalist is to listen. Too many people want to talk, but never listen to the other person. By listening to others, you learn more about them and this makes talking to them easier.
Exits
Another tricky part of a conversation is knowing when to end one. If you drag on too long, you may begin to bore the person or people to whom you are talking. Making an exit can be as easy as shaking their hand and saying "I've really enjoyed talking to you" or "Excuse me, it was nice to meet you, but I shouldn't monopolize all your time."
There is good news if you have a fear of speaking - you can learn how to talk to anyone with a little bit of practice. Avoid two people who appear to be in an intense conversation. Instead, approach a group of people and just listen until they acknowledge your presence, then you can join in on the conversation. If they do not acknowledge you, simply move along.
You might also like...