Way to Tackle Office Outings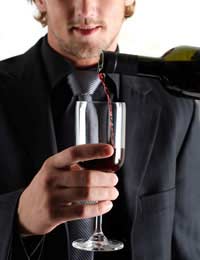 As the clock ticks round to Christmas, mid-summer or the end of that all-important project, your anticipation of a break from hard slog can often be spoiled by the thought of that most dreaded of social occasions - the office party.
Whether it's cheap wine and canapés on the premises, a corporate do at a swanky event, or a terrifying 'team-building' weekend in rural Nowhere, the idea of spending time with your colleagues in a non-work setting doesn't get any easier to bear. Never fear, however; there are ways to get through the event with your sanity intact.
Scenario: The After-Work Drink
When somebody you work with asks you to come to the pub, then refusing, even if you've got a good excuse, can make you seem an anti-social snob. If you really don't want to go, say you'll come for a quick one, but you've got to leave at a specified time - allow around forty minutes before making your apologies.
It may be all you have in common with the people you're drinking with, but do your best not to talk about work. The point of an after-work get-together is to unwind away from the office, so going into in-depth detail about how much you hate your boss defeats the object. Simple questions about people's plans for the weekend should open up an avenue of conversation you can follow comfortably.
Scenario: The In-House Knees-Up
Adjusting to the idea of your office as a party venue can be tricky. A good trick is to invite somebody you wouldn't normally see in your work environment - a partner of friend who's going to view your colleagues as partygoers rather than people you work with. Their attitude should help you get into the spirit of things much more easily.
If you're not the sort who enjoys organising out-of-hours office activities, don't divorce yourself from it completely. Offering to help with the preparations reinforces your colleagues' image of you as a team player. When the social secretary asks for volunteers, say you'd be glad to work on food/decorations/music or anything else you know you'll do well. Not specifying something will see you lumbered with moving desks and chairs.
No matter how dull the do or if you've had the week from hell, do not get so drunk you end up out of control. Once your co-workers have seen you singing appalling karaoke or begging the boss for a kiss, it'll be difficult for them to take you seriously again, so restrict yourself to one or two glasses of wine and avoid the tag of 'that one who got plastered at the Christmas party.'
Scenario: The Swish Corporate Do
The people that perform best at corporate events are the ones who remember that while it might seem like a social occasion, employees are effectively representing their company and as such need to remain professional. Dress is key in this; if it's a formal occasion like the races, dig out a hat and make sure you're as immaculately groomed as the horses. You'll immediately make a good impression on your bosses and anyone to whom you're pointed out.
Conversation also needs to be a blend of work-related and general chat. If somebody asks you what you do within your company, tell them your job title and explain briefly what it entails, then return the favour by asking about their work; this demonstrates what interviewers call 'good interpersonal skills'. Asking somebody else about their job is also good networking, as you're bound to meet somebody who could become a useful contact. Don't make this your sole aim, however; you're being treated to hospitality at an interesting event, so spend some time enjoying yourself.
Scenario: The Mud-Laden 'Team-Building Skills' Weekend
Team-building weekends are usually a combination of activities done as a group, and tasks undertaken solo while the others shout encouragement at you. With the first of these, try to lead by example rather than ordering people about. Listen to people's suggestions before saying '(insert name)'s got a point there. Perhaps we could also…' and then adding your own thoughts. It's important not to spend too long talking about strategy, though, so if the discussion starts to flag, recap the decisions you've already made and point out that you've only got a certain amount of time left.
With solo activities, give everybody the same amount of encouragement - it's easy to flag after the first few people have completed whatever frightening task has been dreamed up. When it's your turn, smile and get on with it - efficiency and calm are vital, even if inside you're gibbering with terror. Standing sobbing on a bridge while everyone spends half an hour convincing you to jump off will just irritate people.
Above all, remember that office social occasions are the ideal way to learn a bit more about your colleagues, whether by talking to them or seeing how they react to different situations. Knowing people are doing the same to you should force you to work at making a good impression. Weigh it up - ten seconds of terror as you hurtle down a death slide's far better than days of giggles about your hysterical refusal every time you walk past the water cooler…
You might also like...