The Art of Conversation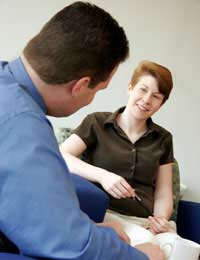 It's been blamed on the prevalence of TV and the fact we don't know our neighbours any more, but whatever the reason, it's becoming harder to strike up conversations with people we've never met before. Even in social settings like parties or the pub, thinking of something to say to a stranger can be a minefield of embarrassment, offence and even argument. Avoid the traps by following these tips for top talk.
Ideal Ice-Breakers
Nobody likes having to begin a conversation - not only is it intimidating to approach somebody you don't know, but it places the burden on you to continue the chat. The first of these is easily remedied if you remember that the people you're talking to are probably as nervous as you are. If they weren't, they'd already be chatting!
As for keeping things going, the easiest way is to begin the conversation with a question. Something as tried-and-tested as 'Nice day, isn't it?' will work, but be careful - it might leave you without anything to say in return.
Try to think of questions that'll give you somewhere to go afterwards. For example, if you're at a gig, ask how many times somebody's seen the band before. If it's more than once, you can inquire where the previous shows were - if it's their first time, ask what made them come to this performance.
What to say…
People enjoy talking about themselves, so look for topics that elicit personal details without asking for somebody's opinions. Jobs, for example, are a safe bet - ask somebody where they work, what they do and how they're hoping to develop that job in the future. (Avoid querying whether they enjoy their job - you'll either get a brief 'yes' or a lengthy rant about everything that's wrong with their boss/company/life.)
If you're out with a large group of people, find out what connects them to the others in it, as that can open up some shared ground. You can also use these links to draw different people into your conversation, which will break up the intensity of a two-handed chat and make it easier to return to the conversation later.
…And what to avoid
There's an old saying about staying away from religion and politics on a first date, and the same rule applies to friendly conversation. If you have no idea of the other person's beliefs and sense of humour, don't start any conversation that requires them to state an opinion.
Keep chat about yourself to a minimum - you won't learn anything new by talking about stuff you already know. Respond to questions you're asked by all means, but don't use the other's persons remarks about their summer holiday as an opportunity to hold forth about your month-long cruise in the Bahamas. You'll come across as self-obsessed, boring and competitive - all the hallmarks of a terrible conversationalist.
Tricky situations
Even if you're trying to avoid starting arguments, you can't account for the other person's behaviour. If they say something you're tempted to contradict or simply find offensive, then smile and change the subject. They'll get the message without you having to declare your opposing view or attempt an awkward smoothing-over.
Direct questions are a more difficult proposition - it's hard to sidestep a query you find too personal. Humour's a good way of brushing it off without causing offence, so if you're asked how old you are, whether you're married or anything else you might not want to answer, just grin and say 'that's classified - I could tell you, but then I'd have to kill you!'
And if you don't know anything about a subject, under no circumstances attempt to bluster your way through if someone asks your opinion - just say you haven't got a clue and wait for the topic to change.
Diplomatic relations
If you're in a group and a row between two factions is getting out of hand, step in to defuse the tension. Recap both sides' point of view - say 'So you're saying…while you think…', which at least gives both parties pause for thought.
Then switch to a different aspect of the topic, rather than rebuking them with a flat change of subject. If they're arguing about the storylines in EastEnders, for example, ask what else they've enjoyed on TV recently and see if that brings the two sides closer together.
Ending your chat
Drifting off as soon as things start to flag makes you look rude, while saying 'Oh, so-and-so's arrived, I must have a word with them' has the other person feeling as if they're not good enough. Plead a toilet break, say your glass needs filling or explain there's a really important reason you need to speak to the new arrival - but do say 'it was good to talk to you, might speak later.' Then, even if they're the dullest people you've ever met, you'll leave them feeling like a million dollars.
You might also like...