Dressing for a Cocktail Party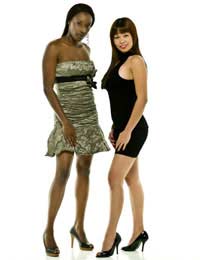 Generally the dress code for a party would be somewhere between a normal party and a black tie event. Keep to looking smart and classy but there's no need for an evening gown.
Preparing
You need to take a look at the sort of invitation you have received, if it has come via email on telephone then chances are it is a more casual affair than if you'd received an invite by post. You also need to think about the time of day the party is at, if it is during the evening then a more formal style of dress will be expected than if it were in the daytime. Plan you outfit in advance; cocktail parties are all about elegant, show stopping outfits that turn heads. No one needs to know that you tried on ten different outfits before arriving at your final choice they'll just know you look fabulous.
The Dress
Women should always wear a dress to a cocktail party; most stores and online retailers will specifically stock cocktail dresses. This makes life so much easier when trying to find the perfect dress. You could wear anything from an elegant mini to an ankle length dress; you should know what your comfort zone is so make sure you stick within it. There is no point in feeling terribly uncomfortable at the party, it is better to ooze confidence than be wearing the shortest skirt in the building.
Go for glitter, large embellishments and gorgeous silhouettes when choosing your dress. Take inspirations from 30's movie stars and 50s pin up models for something that is different and brilliantly classy.
The Shoes
When choosing shoes, do so after you've chosen the dress. If you intend to wear a very bright dress with loads of detail then opt for some a simple style of shoe. If your dress is plain, sleek and elegant don't be afraid to spice up the outfit with some brightly coloured shoes then match these to your accessories.
Generally killer heels will be the most likely shoes to impress, choose ones with a platform if you aren't so good in heels or a wedge heel for ease of walking. Alternatively invest in a good pair of flat pumps or kitten heels, the higher your budget for flat shoes the better, as cheap ones tend not to give you that elegant look.
The Accessories
Small top hats, feathers, large earrings, sequined clutches and brightly coloured tights are all allowed when dressing for a cocktail party. You are there to wow, have fun and be a bright and bubbly as those cocktails you will be drinking. Try not to go too over the top on accessories; it isn't always necessary to wear a necklace, bracelet and earrings. Experiment with what works with the rest of your outfit.
Make Up
Stick to classic make up rules, if you are wearing heavy eye make up then go easy on the lipstick and vice versa. Unless you want to use colours to match your outfit then it is best to keep eye make up neutral. Experiment with simple eye liner and bright lipsticks and see what works. Make sure to keep it elegant and glamorous, don't be afraid to stick on some false lashes and pretend that you are that 30s movie star.
You might also like...