Throwing a Formal House Party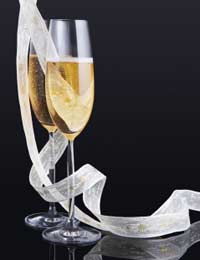 For a formal party the dress code must be of a formal nature, this means evening gowns and shirts and ties. Obviously you can decide on how formal you want your party to be but specify on your invitations the dress code so guests come dressed accordingly.
When choosing your outfit make sure it fits in with the dress code set for your guests, evening gowns and tuxes can be quite pricey so if you have something already in your wardrobe then you have all the more reason to choose a formal party for your occasion.
Decorations
Not too many decorations are needed for a party such as this; however, fresh flowers will give your home a natural feel and will make each room smell divine. Make sure you have plenty of seating available for guests as well as adequate surfaces to put out food and drink.
If you plan on having music on at your party and would like you guests to feel relaxed enough to dance then make sure there is enough space for this and that nothing is going to get broken or damaged by being in the dancers' way.
Invites
Invited should go out two to four weeks before the party to ensure that guests have enough time to RSVP and find outfits. Clearly state on the invite any special requests such as the dress code, whether guests have to bring food and drink and how you wish for them to RSVP. Ask your invitees to RSVP about a week or two before the party, the sooner the better as you can gauge how many people you will need to cater for.
Food
If you are providing food yourself then it is always easiest to do a finger buffet so guests can choose what food suits them. When thinking of the types of food to serve make sure you cater for different diets, so have some vegetarian dishes, some dairy and make sure all food groups are covered for those fussy eaters.
Even if you are asking guests to bring a plate of food it is still good form to provide the basics such as crisps and a few sandwiches. Have your food set out on easily accessible tables with appropriate cutlery, bowls, plates and napkins placed close by.
If you are planning on having a sit down meal then don't try to cater for too many, keep your guest list to six or under, you need to enjoy yourself too. Ask your guests what they don't eat so you can make sure everyone is happy.
Drink
Once again you will need to cater for everyone, if you are providing all the drink then make sure you have various options both alcoholic and non alcoholic to keep everyone happy. You can also provide glasses at little or no cost by contacting supermarkets who rent out glasses on a large scale, you pay a deposit usually around £100 have the glasses for your party, clean them then take them back.
Then you will get your deposit back less £1 for every glass that was broken, so if you and your guests are careful then it needn't cost you anything! This is a good way to guarantee that there is enough to drink from, nothing worse than running out of glasses.
You can also ask guests to bring a bottle, this means you don't have to worry too much about providing various different types of alcohol. Just make sure you provide some soft drinks and mixers as well as whatever you want to drink on the night.
You might also like...