Which Colours Suit You?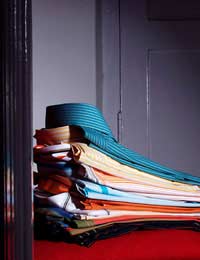 Does your wardrobe resemble the Addams Family's laundry basket? Do you stick to 'neutrals' so you can put everything in one wash? It's time to stop being shy - wearing colour's a great way of lifting your mood, adding interest to simple outfits and expressing your personality. Follow these tips for a wardrobe bursting with brights.
Step1: Consider Your Personal Preferences
Bear in mind that what you wear should mark you out as an individual, so take a look at the decoration in your home, the pictures on your walls, the everyday items you use and the type of gifts people buy you. All of these things say something about the kind of colours you associate yourself with - do you like calming blues and greens, opulent reds and purples or zesty oranges and yellows? Once you've got an idea of the sort of colours that reflect your personal taste, think about adding them to your wardrobe.
Step 2: Examine Your Own Colouring.
It's vital to know which colours will work with your skin, hair and eyes. If your skin's got pink or red undertones, then you'll suit 'cool' shades (those with a blue tinge, such as lilac, white, aubergine or turquoise) while skins with peach, yellow or golden undertones are 'warm' and need colours with underlying red (including orange, aubergine and dark brown). If you're not sure whether a colour is 'cool' or 'warm', hold it next to something blue or red to see whether it's got similar tones in it.
In terms of hair and eyes, it's important to think about what contrasts with your colouring, rather than what co-ordinates. Blondes, for example, look much better in black than brunettes, whose hair contrasts beautifully against cream clothing. Similarly, the old seduction tip about blue eyes and blue eyeshadow is a myth; wearing vibrant blue shadow actually deadens the colour of blue eyes, while green or purple will make them stand out. Besides, it's far easier to contrast clothing or cosmetics against your eye colour than it is to match them up perfectly!
Step 3: Be Aware of the Shade Principle
Colours come in several shades, which can be grouped into collections such as brights (bold primary and secondary colours like pillar-box red, royal blue, emerald green and canary yellow), pastels (shades mixed with white, such as pale pink, baby blue, mint or primrose), subtle colours (grey-mixed shades including lilac, dusty pink or eau-de-Nil) and strong colours (dark shades such as wine red, forest green, navy or gold).
When finding out which colours look best on you, it's more helpful to think in terms of shade groups rather than individual colours, as there's no guarantee all shades of a particular colour will suit your own colouring. For example, fair-skinned redheads look great in pale pink, which plays up their complexion, but fuchsia pink will clash with their vibrant hair and leave them looking washed out.
Step 4: Work Out Whether a Colour Suits YOU
All of these tips will help you narrow down what colours are and aren't right for you, but the only real test of any colour is to try it against yourself and see whether it works with your skin, face, hair and figure. If it doesn't flatter all four, put the garment back on the rack and try something else.
Start by examining whether the tones of the garment are 'cool' or 'warm' enough for your skin. The right shade will light up your skin, while the wrong one will make you look washed out. Your hair and eye colour should be flattered, not overpowered by your clothing, so if they look dull or lifeless, it's the wrong shade. And it goes without saying that any colour that shows up your lumps, bumps or blemishes is best avoided, so stay away from those pastel trousers unless you've got a perfect bottom.
Step 5: 'Accent' Colours aren't just for Rooms
If you're a devotee of black, you may still not be brave enough to try multi-hued clothing, but that's where accessories come into their own. A vibrant-hued bag, scarf, necklace or pair of shoes teamed with a neutral outfit will lift it from tasteful to truly stylish in an instant - and work out much cheaper than new clothing. Experiment with different shades against your old faithful pieces to create totally different looks from one set of clothes.
Still not inspired? Take a tip from history, when only the richest, most powerful people could afford to wear bright colours. Where would heroes like Robin Hood have been without Lincoln green, or Superman without his primary-coloured ensemble? Colour marks you out as a force to be reckoned with - so say nay to grey, frown at brown and revel in the rainbow.
You might also like...