Getting a Great Haircut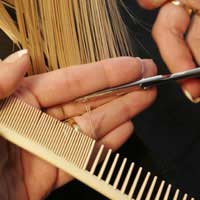 Unlike clothes or make-up, your hair is difficult to change on a regular basis unless you've got a fat bank balance. That's why it's worth taking time and investing money in a cut that'll make you feel great about yourself every time you look in the mirror. Follow these tips for hair heaven.
Analyse Your Needs
Your lifestyle, personal style and daily grooming regimen all count when it comes to deciding on a haircut that's right for you. Do you need a style that can be tied back while playing sport, a cut that'll stand up to the demands of an active job, or something that your young children won't pull, muss and chew into ruins?
Ensure the cut you plump for only requires as much maintenance as you have the time (and inclination) to give it. If you're the sort of person who likes to go from duvet to door in ten minutes flat, a cut that only looks good after blow-drying, straightening and meticulous application of products isn't going to be practical.
Consider Your Looks
To work out what kind of face shape you have, measure across the widest point of your forehead, across your cheekbones, the width of your jawline and from chin to hairline.
If your length and width measurements are roughly equal, you've got a round or square face. Avoid chin-length styles, which accentuate your jawline, and unflattering centre partings. Round faces need to keep the fullest part of their style at the crown of their head so as not to add weight to the cheeks and ears, while square-faced people require a rounded shape to their cut to balance the angles of their jaw.
Those with long faces (where your length measurement is more than 1.5 times the width) shouldn't wear their hair long and straight - it'll only make your face look longer. Stick to short or medium-length styles for balance, and consider adding a fringe or feathery layers to reduce the length of your face and soften angles.
Straight hair can be cut into a variety of styles, but curly hair requires much more thought from the hairdresser. If you've got very bushy curls, try to wear your hair longer, as this should weigh hair down and take some of the springiness away. Short or long, layers that reduce the weight of hair are also a good idea.
Examine the strands of your hair to decide whether they're fine or coarse - fine hair looks thin, feels light and can be 'flyaway'. Coarse hair's strands are much thicker and can feel rough to the touch. The amount of hair you have will also affect the finished product - thin hair needs blunt cutting to give its fineness shape, while layers are necessary to allow control over thick locks.
Search for Inspiration
Magazines are the best place to look for pictures of haircuts you like. Celebrities often popularise a certain type of haircut, but compare your face shape and hair type with their own before committing yourself. Don't forget famous people often have 'optional extras' that make their cut look great, such as expensive highlights.
Salons usually have photo albums featuring styles they've created, so ask to see what they've got to get an idea of what can be done at your chosen establishment. And if you see somebody in the street who's got a great haircut, don't be afraid to stop them and ask where they got it done - they'll take it as a huge compliment.
Book a Consultation
A chat with your hairdresser beforehand is an invaluable way of getting expert advice on what will suit you before you start snipping. The best way to choose a salon is by word of mouth, so ask your most stylish friends where they go and whether they can recommend a particular stylist. Be ready to 'shop around' between salons until you find a stylist that's friendly and sympathetic to your needs.
Consultations are usually free, but if you're planning a dramatic restyle, don't forget to mention it when you book the cut, as some salons charge more for a new style. It's also worth getting a more senior stylist to do the transformation, as they'll be more experienced and have more ideas.
During the consultation, a good hairdresser will ask you about your lifestyle needs as well as telling you what's 'in' this season. If they suggest something that sounds impractical, speak up and say so - they might know about haircuts, but they can't be expected to know what will and won't work with your routine unless you tell them.
If you've prepared properly, you'll be able to relax when you finally sit down in the salon chair. Bury any nerves you've got and remember it's in your hairdresser's best interests to make you look great. And if you hate the end result, don't forget that your hair will grow back - and in the meantime, there's always hats…
You might also like...