How to Shop for Vintage Clothes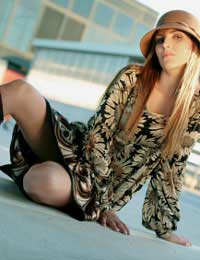 There are so many options out there for those that wish to buy vintage clothes, with the boom in online stores loads of people are selling vintage clothes in great condition.
Research
Before going out and buying any old thing, do your research, most vintage stores will be able to date items correctly but charity shops won't. Look online for images from the era you'd like to buy from, know about little things such as when symbols on tags were introduced, what buttons are representative of which era and so on. These little things can not only help you to date the clothes you are buying but also to judge the quality and condition of them.
Vintage clothes also tend to be a lot smaller than conventional sizes, for example as UK size 16 in a vintage dress will probably be closer to a UK 14, maybe even a 12. The best thing to do is try things on or if you are buying online most sellers will list the measurements of the garment, compare this with our own accurate measurements to get an idea of fit.
Shopping Online
Most of the sellers are independent fashion lovers who pick up vintage gems to sell online. Because of this you can find some fantastic deals. The site also has sellers offering various handmade items. EBay is also good to try although you have to be careful of anyone trying to pass clothing off as vintage when it is not, similarly you might be able to find some vintage pieces people don't even know are vintage.
There are also many other websites selling vintage clothes, these are online clothing shops that specialise in old clothing usually 20s-70s. Because these are a bit more specialist you can find yourself paying a lot more for these clothes, into the £1000s for some items. However, this is where the experts are so if you need advice, great quality, mint condition pieces and good service then these stores are perfect for you.
Shopping in Vintage Stores.
These are great places to find clothes that fit you, are in good condition and the sales staff will know what they are talking about when it comes to era. Using Google or the yellow pages you will soon find that there are vintage stores you never even knew about. If you find that you don't have one in your town or city then consider taking a road trip somewhere that is rife with them.
The upside to shopping in these places is that you get to see and feel the clothes as well as try them on. Pricing varies from store to store, some places get so much stock that they price it reasonably just to keep it moving. Other stores will only take perfect vintage items that they feel are of worth and therefore they price quite highly. I'd say look everywhere, most vintage pieces are unique (or close to it) so it may be worth the investment. If you are willing to have a bit of a rummage then do so, you may find a real bargain.
You might also like...