Choosing a Pair of Winter Boots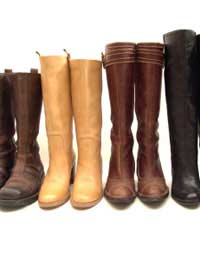 Winter boots are essential for your winter wardrobe; they give you the opportunity to keep wearing dresses with warmish legs, despite the cold weather. The perfect, versatile way to winter up those summer outfits.
Length
You firstly need to work out whether you need thigh high, over the knee, knee high, calf or ankle boots. A good place to start if with knee highs, simple, normal boots, an higher and you risk wandering into the realm of the dominatrix and any lower and you are going to get cold legs.
Of course this is down to your opinion you might know that ankle boots look better with your favourite pair of skinny jeans tucked into them than knee high boots do. Try a few pairs on in differing heights you may find a pair of thigh high boots that completely flatter your thigh boot wearing figure.
Heel
A heel is a big deal when choosing boots, do you go for flat so you can deal with snow, rain, slippery surfaces or do you get a high heel that will turn heads and possibly leave you on your backside in a puddle. I respect anyone that can wear high heels on a day to day basis and more so in the winter, pavements are uneven, there's rubbish to slip on, wet tiles have no grip and so on, I'm terrified of falling over. Practicality states that a flat boot would make more sense, however, heels look so much better. It is up to you, if you are a seasoned heel wearer and take fashion before beauty then do so, I shall applaud you.
Material
You are probably going to need something waterproof, I would recommend leather but shop around you may be able to find boots made from other materials that serve their purpose of being functional and pretty all at the same time. I'd also advise having boots that have good grip on the bottom; this is essential whether you choose flat or heeled boots.
Price Tag
I think winter boots are worth the investment and would quite happily spend a good deal on them, however, you have to think about whether you will want new boots next year or if you are happy for this year's winter boots to last you through a couple of years. You can easily get cheap boots but you may find that they let water in, are slippery and don't look as good as ones that are a little bit more expensive. Work out a budget and look at what you can afford in your price range, a bit of shopping around will ensure you find the perfect pair of boots for your budget.
Trying Them on
It is usually quite essential that you try boots on, especially if you have quite wide calves. Most boots are cut and sized differently from one another when it comes to the leg part. This means that a pair of leather boots in one store may fit you whilst another may not. Try boots on, doing this will ensure you find the perfect pair of boots in the perfect size.
You might also like...