Picking Spectacles and Sunglasses to Suit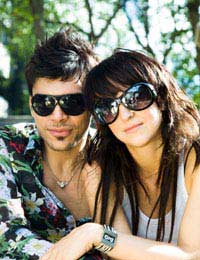 The days of thick, black NHS-issue specs and choosing to squint rather than embarrassing eyewear should be over in this age of lightweight designer frames. Sunglasses, too, have never been so important as we get more sunny days and jet off for beach holidays all year round. Yet it's amazing how many people still opt for glasses that simply aren't flattering to their faces.
There's no reason for practical items to be unattractive - shoe designers have been proving that for years. Make sure you follow these guidelines to get a pair of specs or sunnies that'll look as great as your killer heels.
Consider Your Needs
The sort of glasses you buy will be dictated by your lifesyle. For vision-correcting spectacles, the style you need is partly dependent on your vision problems. If you're long-sighted and work in an office, for example, you'll need glasses that enable you to see your computer screen all day, so make sure the frames you choose are lightweight enough to wear for eight hours or more, and smart enough to blend in unobtrusively with your office outfits.
Sunglasses come with a filter category from one to four - the higher the number, the darker the lens. A rating of two is the minimum acceptable for general use in sunny weather. For conditions where the light is very bright, such as when driving or in hot desert countries, the glasses should be rated at least three. Never wear a darker lens than you need; it'll just make it harder to see and could cause eye strain.
Face Shape, Features and Hair
If you're unsure of your face shape, measure the widest part of your forehead, across your cheekbones, and from your hairline to the tip of your chin. Similar length and width measurements mean you've got a round or square face (this should be obvious from the angle of your jaw), while long faces will be twice as long as they are wide. A classic 'oval' face will be one and a half times as a long as the width of your cheekbones - and you'll look great in anything you choose to try on.
For round-faced people, an angular frame that balances out your curves is great. Don't pick anything too rectangular, though, as they'll 'stretch' across your face and give an impression of greater width. Big bug-eyed frames as popularised by slender celebrities are also out, as they mimic the shape of your jaw.
Square faces need to follow the opposite rule - look for round shapes to offset your own angles. Again, avoid narrow ovals that add width, and it's obviously a bad idea to pick a bold square shape.
Slender-lensed styles and heavy frames suit a long face, as they effectively 'shorten' a lengthy chin by drawing attention to the centre. Don't go for big frames though - they could make the rest of your face look bigger.
Take a look at your nose as well while choosing glasses. Too lightweight a frame will seem overly fragile on a broad-bridged nose, while small noses will be overwhelmed by a heavy plastic frame. Hair's important, too - if you have long hair, it can become part of how you perceive your face shape, so make sure your glasses still frame your face effectively when you tie it up.
Buying Your Glasses
Take advantage of technology. The biggest high street opticians have digital photo equipment that allows you to take pictures of yourself in a number of styles and compare them, so there's no excuse for not shopping around.
For regular glasses wearers, bear in mind they'll need to match all of the clothes you own, so don't go for anything too outrageously coloured or shaped. Ultra-hip black frames can be too heavy for some faces, but horn or metal frames look effortlessly chic and versatile whatever your outfit.
If the sunglasses you pick up don't have a label on them stating their filter category, UVA/UVB block rating (which should never be less than 100%) and a European CE or British BSEN 1836:1997 safety mark, ask the optician for details - and if they're not available, don't buy them.
A lot of people have one ear higher than the other, or a quirk to the bridge of their nose. Opticians can quickly alter frames if they don't sit easily on your face, so ask their opinion on their fit and they'll be able to tell you if anything needs adjusting.
If you wear your glasses all the time, changing the style of your frames can effect a transformation as dramatic as a new haircut. Take a leaf out of the fashion designers' books and see them as an extension of your personal look rather than an obstacle to it. With increasing numbers of labels embracing the trend for stylish specs, it's clear four eyes have finally become more desirable than two.
You might also like...