How to Get Great Winter Hair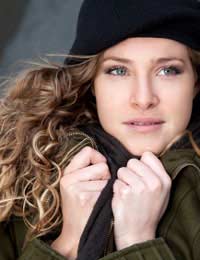 The harsh, cold weather of winter can leave your hair feeling limp and without life. However, with a bit of extra care your hair can be left looking as brilliant as always.
Hair Cuts
Get a trim before the real cold weather sets in, any split ends or damaged hairs will just get worse when they are exposed to cold and whipped around by the wind. Getting a hair cut will ensure that your hair is less likely to break and get damaged under the stress of the cold weather. Also, it is a good chance to try out a new cut or go for a conditioning treatment.
Blondes
The sun tends to make blonde hair glossy and bright during the summer, this can get lost as we transition into winter. Try some hair products formulated especially for blondes, this bring out the colour to make it look much brighter and healthier. Also, don't be afraid of going to the salon for some lighter highlights, these can give life back into those fading locks!
Use Heat Protection Products
These should be used all year round, before you use any heat styling equipment use a protector spray. This is especially important for those that blow dry or straighten their hair daily as this can contribute to split ends and damaged hair which will only be exacerbated by the cold weather. There are various products out there that will protect your hair from shampoos and conditioners to specific heat protection sprays.
Hydrate
Like your skin your hair gets moisture from your body. If you keep your body hydrated then you are more likely to have healthy looking hair. Not only should you drink eight to ten glasses of water a day for your hair but it also benefits your skin, bones and general well being.
Diet
The food you eat plays a big part in how healthy your body is, this isn't just to do with weight and exercise but also energy levels, skin and hair. Eat fruit and vegetables as these will give you the essential vitamins you need to keep your hair looking amazing. Also try and get some of those good fats; the ones that can be found in fish, nuts and seeds. If you don't find you are getting enough vitamins and essential fatty acids then consider taking a supplement. Most of these are natural and perfectly safe for you and there are even some designed to improve your hair and skin.
Scalp
Paying attention to your hair is great but your scalp needs looking after too. Changing temperatures and central heating can really dry out your scalp causing dandruff. Use an anti-dandruff shampoo or a scalp moisturiser to ensure you are flake free.
Tie Your Hair Back
It is essential for winter that you know how to tie your hair back, if it is long. That last thing you want it knotty, messy hair as a result of it being whipped around in the wind. Another way to avoid this is to wear a hat and tuck your hair up inside it, a quick brush through once you get to your destination and you are sorted.
You might also like...