Choosing The Right Foundation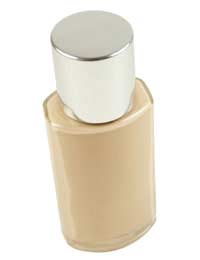 Along with wearing the wrong size bra, picking the wrong colour foundation's one of the most common mistakes women make - but technology's developed so dramatically in the last few years that there's no excuse for getting it wrong any more. If you're looking orange or there's make-up settling into the lines around your eyes, read this guide and then hit the shops for a brand-new brand of facial base.
Step 1: Decide What Your Needs Are
Whether you feel naked without foundation on, or if you only wear it once in a blue moon, assess your personal preferences before you attempt to decide between brands. For example, do you prefer a powdery base, a liquid or a creamy formula? Will you be applying it with a sponge or do you blend with your fingers?
Consider your environment - working in an office where the air-conditioning dries out your skin needs different make-up from a job that requires you to get sweaty rushing around on your feet all day. And don't forget to account for changes in season, as your summer tan will darken your skin for a few weeks every year.
Step 2: Assess Your Skin Type
Once you've worked out what you want from a foundation, learn to speak make-up experts' language by finding out what sort of skin you've got.
Dry skin can look dull and reflects light badly because of its lack of oil. It gets itchy and irritated easily, and can be prone to flaky or scaly patches.
Oily skin's the opposite - skin looks shiny and feels greasy, and may have larger pores than normal skin. Spots can be a problem for those with oily skin, as is reducing the shiny appearance.
A lot of people have combination skin, where the T-zone (the T-shaped area of the face formed by the forehead, nose and chin) gets oily, but cheeks can be dry.
Knowing what kind of colouring you have will also help you get the right match for your face. If you're white, you'll either have pink or yellow undertones in your face - something you may already have figured out when deciding whether you suit 'warm' or 'cool' colours. Asian skins usually have yellow undertones, while black skin has its own palette in shades of brown.
Step 3: Get Ready to Test
Armed with your personal preferences and skin type, it's easy to go out and visit a few make-up counters to decide on a new foundation. Don't just take the assistant's word for it - it's important to test the product, as much to find out whether you like the feel of it as to ensure the colour's right for you.
A very common mistake is to test the foundation on your hand, rather than your face. You won't be putting it on your hand, so why test it there? The best place to test foundation is just above your jawline. Dot on a little of the product and blend it in using your fingertips. Check whether the colour is similar to your own skin tone and blends into your neck without leaving an obvious 'tidemark' between the two.
Don't forget to make a note of anything you like before moving on to the next counter for advice. It's important to shop around, especially if you haven't bought foundation in years, to find out what's available and which range carries the best shade for you.
Step 4: Bust the Jargon
Here's a guide to some of the more common types of foundation on the market so you can find the one that's right for you.
Moisture-rich/hydrating - this moistens skin and stops the make-up from feeling tight or irritating on the face. Good for dry skins.
Mattifying/oil-control - reduces the appearance of oil on the skin, making the face look less shiny. Good on oily skin or the T-zone.
Light-reflecting - brightens up dull or dry skin by providing a surface that allows light to bounce off, making your skin look brighter. Best on dry or more mature faces.
Line-smoothing - a formula that fills out facial lines to reduce their appearance rather than sinking into the skin and emphasising wrinkles.
'Colour match' - the newest types of foundation come in a limited palette of shades that 'adapt' to an individual's skin tone. There's some debate about how well they work, but they're worth a shot if you're struggling to find an ideal match. Go for the shade nearest to your natural skin.
Finally, don't forget to check the new product works with your current shade of concealer and powder - cover-up should be a little darker than foundation, while powder should match it closely. And don't be afraid to spend money on something that works - used over a year, a £20 bottle of foundation costs just 5p per day!
You might also like...