Make Up That Suits Your Eyes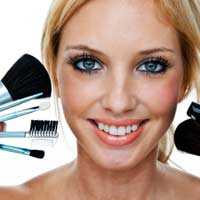 If you're a makeup lover, you might have stumbled across certain 'rules' when searching for something to decorate your eyes with. Some pharmacies have little pamphlets that tell you what colours suit what kind of eye, or an overly tanned 'advisor' wearing a tiny white shift dress may sneak up behind you and tell you that you should never wear blue eyeliner. My advice? Ignore it. Nothing is off limits.
Breaking the Rules
It's not possible to set rules for choosing what suits your eye colour, because it doesn't just depend on that – eye shape is important, as well as skin tone, hair colour; even tiny things such as eyebrow shape can affect how makeup looks. I know from personal experience that brown eyeshadow can look utterly atrocious, even Dawn of the Dead-like, on green eyes, though popular belief would dictate that it makes them pop like a sparkling glass of Chartreuse.
There are no strict standards for this, only the vaguest of guidelines. So if you're planning to branch into new realms of colour, I would recommend two things – a good eye primer, and a large palette of shadows and/or a box of soft pencils in a variety of colours. To me, primer is absolutely essential to get the best out of a colour. How many times have you fallen in love with an eye shadow or eyeliner in its case, only to be disappointed by the pale, dusty imitation that shows up on your skin? Not all companies produce primers, and when you find one it might not be as cheap as you'd hope, but it lasts a long time and it is worth it. Not only will it give you the vibrancy of colour you deserve, it stops it from creasing and fading throughout the wear time.
In the absence of primer, use a little foundation around your eyes before applying your chosen colour; it's a reasonably effective short-term substitute. As spring is upon us, try some sunny colours – yellows, oranges and pale greens. No matter your eye colour, fresh, bright colours will make them stand out; it's all in whether you think it suits you and finding the confidence to be so bold.
A Word of Caution
Some colours genuinely will suit anybody – specifically shimmering greys and blacks – as they frame an eye and again, make them stand out. But remember that darks shades also make the eye look smaller, so try a very pale yellow eyeliner along the inside of the lid, to give the illusion of width. A flat white eyeliner is too bright and chalky, and as such looks very obvious, where a yellow or cream pencil is a far better deception.
There are also some colours that will never suit anybody – reds are a prime example, though they look amazing with a gothic themed outfit or Hallowe'en costume. For every day wear, they drain the colour from your face and will invariably make you appear hung over. If you want to try something in the pink spectrum, try a neon shade and accompany it with a slick black eyeliner flick and lots of mascara. The boldness of a block colour will look edgy and sharp and pull all focus to the eyes.
Above all else, don't feel tied to a small group of colours. If you fancy the idea of bright orange eye shadow, give it a try! Preparation and application are key in discovering what suits your eyes; it's about the shape that you paint as well as the tone. There's no reason not to layer the shades too, to form a smoky glow whatever the colour spectrum may be.
Just remember that makeup is your friend – whether it works for you or not is in how you arrange it and your own sense of confidence.
You might also like...