Minimalist Make-Up Bags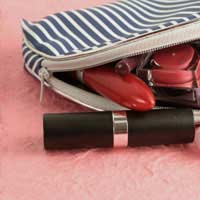 When it comes to cosmetics, we're always being encouraged to try new colours, innovative products or handy gadgets. Unfortunately, some of our experiments simply don't work, or go out of fashion as fast as they arrived - leaving a make-up bag crammed with products, very few of which you ever use.
A beauty bag full of dirt, debris, unwanted products and ancient standbys is not only useless for your looks, but could be hazardous to your health. To avoid the men in white suits coming round to fumigate your dressing table, follow these guidelines…
Begin with the bin: It doesn't matter how much you paid for it - if you don't use it, throw it away! Get rid of any foundations or concealers in the wrong shades or formulations for your skin, eyeshadow shades that don't suit your colouring and 'statement' lipsticks that make you look like an Eighties throwback.
Bin, too, all the 'handy' products that aren't as useful as they sound, including things like blotting papers, eyebrow brushes, two-in-one 'labour-saving' devices with built-in applicators or 'trial size' bottles foisted on you by eager assistants.
Applicators like the small sponge-tipped wands that come with eyeshadows, or flat puffs sold on top of powder, are magnets for dirt and dead skin cells. Don't even bother adding these to your make-up bag - throw them away when you buy the product and invest in decent brushes and sponges for your face instead.
Before you put anything back in the bag, give the interior a wipe with a damp cloth to get rid of any product that's leaked inside, which will keep your cosmetics clean.
Ancient artefacts: There are bound to be a few products you use so sparingly or rarely that you've not needed to replace them for years. Check these items very carefully - they could be harbouring bacteria or decaying from lack of use.
Look for tell-tale signs. Mascara, for example, is clearly unwearable if it's dry and flaking off the brush, or thick and clogged from lack of use. Ideally, it should be replaced every three months, but if you're not a regular user, try to replace it every year to avoid a build-up of bacteria on the bristles.
Foundations, concealers and powders, yellow as the pigments dry up, while eyeshadow become chalky and lipstick develops a white film across the tip. If you've been hanging on to a favourite colour because they've discontinued it, check online for specialists who, for a fee and a small sample of the product, will recreate your desired shade of lipstick, eyeshadow, blusher or facial base.
Don't forget to check your tools. Brushes and eyelash combs can be cleaned by soaking in hot water with a little washing-up liquid, then drying with kitchen towel to remove all dirt and grease. Cosmetic sponges should be replaced regularly to avoid a build-up of dead skin cells and old make-up being transferred to your skin.
The new-look bag: Okay, you've removed all the useless and decaying stuff from your bag - so what should you put back into it? Aside from your preferred colours for eyes, lips and cheeks, a good make-up bag should contain these bare essentials needed to keep your face looking professionally groomed:
Foundation that matches your colouring well and works with your skin type - there's no point using a foundation designed to reduce lines if you're only 25.
An all-purpose concealer that works on under-eye bags, spots and blemishes. Again, make sure this matches your skin tone and type (but note concealer should be a little darker than foundation). Whether you want a line-smoothing, mattifying or antibacterial formulation, ensure it feels light when applied to your face rather than heavy and greasy.
Powder to help 'set' your make-up in place and provide something for colours to adhere to. Pick a close match for your skin tone.
Highlighter, whether liquid or cream. This can be used to add shimmering definition to the corners of eyes, cheekbones and the centre of lips.
Black or brown mascara, to define and open up your eyes without adding eyeliner or shadow.
A peach-toned blusher, which works on most skin types and makes you look healthy rather than flushed.
Lip balm to prime your mouth before adding colour, or just to give your lips a soft shine.
Brushes - the largest one you can fit in your bag for powder, as well as a smaller one for eyeshadow.
You'll probably be shocked by the amount of stuff you throw away in the clear-out, but the feeling of lightness afterwards will soon remove any lingering guilt. And after you've freed up the space, it'll be time to buy more make-up and experiment with a few new looks…
You might also like...