Vintage Make-up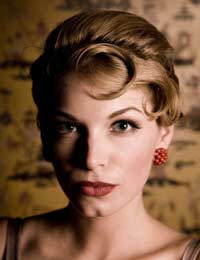 When I say vintage, I don't mean spreading white lead-based gunk across your face and glazing it all with egg whites for a dewy glow. I'm talking intense, classic burlesque makeup that can suit any face shape and skin tone, and will always look striking – all you need is precision.
Face - Pale and Natural
In some ways, this style is about less being more. You need to start with a very blank canvas; a matt foundation with good coverage, as pale and yet as natural as you can get away with. Set it with a translucent powder so that you have a plain mask to work on, your features ready to be framed. Ensure to extend the foundation and powder coverage to the eyelids, if you don't normally.
The blusher should be understated and neat, and an angled brush is best to sweep the colour through the hollow of your cheekbones. Avoid the apples of the cheeks and suck them in if necessary to give you a better guideline for where the blusher should be. An alternative is to use a pale shimmery bronzer which will give you that sharp definition but in a much less obvious way and bring all of the attention to your eyes and lips.
Long Thick Eyelashes
The eye makeup for this style is about making the lashes look as long and as thick as possible, boldly outlining them and making the white look whiter. First use a matt black liquid eyeliner with a fine brush or sponge tip, and carefully draw it across your eyelid in the neatest sweep you can manage, ending with a flattering flick. Curl your lashes the old fashioned way and then use a good quality volumising mascara, one that will layer without flaking. Coat your lower lashes as much as the upper ones and ensure you get the tip of the brush right into the corners of the eyes. If necessary, use an eyelash brush to separate the lashes and remove clumps, until they look as flawless as you can make them.
If you've got heavy eyebrows, you're exceedingly fortunate in that it's perfect for this, especially if they're pruned into a dramatic arch. But if you're under-endowed, it's easily rectified. Use a hard eyeliner pencil that matches your hair colour to draw in the perfect curve, the advantage being that you can make them any shape you like and even raise one of them a little higher for a perpetually sardonic expression. Alternatively you can use a good wax-based colour to fill them with a sharp angled brush. Powder shadow isn't advisable as it can smudge and turn dusty too easily.
Luscious Lips
Now, the lips in vintage makeup are the most important. The classic shade is of course post box red, but that won't suit everybody. Make it a pink or an orange otherwise (not a nude or brown because this look relies on bright lips), and – golden rule, ladies – you must use lipliner for this because it has to be immaculate. Using lipliner has the added advantage of meaning you can alter your natural lip shape and make them appear thicker if you're lacking in lip. Fill the outline in a solid lipstick that will hold its colour and vibrancy, and if you're so inclined, a slick of gloss can't hurt.
A cheeky beauty mark wherever takes your fancy adds a little filmic glamour to the finished product. Frame the whole thing with slick, loose ringlets or a perfectly preened updo with a Betty fringe, and you have a look of ageless elegance that will look equally incredible with a boned corset or a quaint tea dress.
You might also like...