Make-Up Masterclass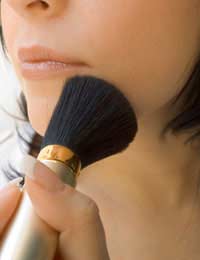 Are you the sort of person who isn't sure why people use foundation, concealer and powder before applying their 'real' make-up? Do mascara clots and lipstick smudges regularly appear on your face? Prepare to be demystified - here's a guide to the basics of any good make-up bag and how you should be using them.
Foundation
The starting point for all well-groomed faces, foundation is a liquid, powder or cream smoothed over the whole face to provide a layer of coverage that evens out skin tone, minimises pores and covers light blemishes.
Do: Apply your foundation with a proper cosmetic sponge. The little foam applicators that come in compacts are not only too small to allow you to sweep colour on evenly, they're also a breeding ground for bacteria and dead skin cells.
Don't: 'Save' on concealer by applying very thick foundation. It doesn't cover spots effectively and makes your face look mask-like and artificial.
Concealer
Used to hide spots, blemishes and dark circles, concealer is a cream or liquid added in small dots to the areas where it's needed and blended into the skin. It can be used without foundation for those with generally good skin, or while you're in hot climates, where too much base can feel clogging.
Do: Try using a brush to add concealer. It stops you putting too much on and gives a very professional finish. Don't forget to clean the brush regularly, though.
Don't: Apply normal concealer to eye bags - it'll only make them look bigger. Ensure you've got a light-reflecting formula if you want to cover dark circles.
Powder
Loose powder (which comes in small pots) or pressed powder (in compacts) is applied to 'set' foundation, reduce oiliness and help eye and cheek colours stick to the skin.
Do: Apply loose powder with a puff so you can press it into the skin, but use a brush on pressed powder, which needs to be stirred up a bit so it doesn't 'sit' on the face.
Don't: Use powder as a substitute for foundation. It doesn't give the same sort of coverage, and a thick layer of powder just makes you look chalky.
Blusher
Also known as rouge, blusher is colour for the cheeks and comes in powder, cream and occasionally liquid (cheek 'tint') formulations. Use a brush to apply powder only to the 'apples' of your cheeks - the bits that bulge out when you smile. Apply small dots of cream blush in the same place before blending lightly over the whole cheek.
Do: Pick peachy-toned blushers, which suit everyone - pinks can be difficult to wear and dark bronze colours only work on very tanned or black skin.
Don't: Paint streaks of blusher along your cheekbones to 'shape' your face. You'll end up looking like an escapee from Dynasty.
Mascara
A perennial staple of any woman's make-up bag, mascara is painted onto eyelashes to lengthen, thicken and darken them and define the eyes. While some firms still make 'block' mascara, which comes in small chunks and is applied with a brush, by far the most common sort comes in tubes with a bristle-covered 'wand' to apply.
After removing the wand from the tube, wipe off the excess mascara with a tissue before beginning to apply a thin coat to the lashes. Use an eyelash comb to stop the lashes sticking together and get rid of clots, then apply a second thin coat. Putting on two layers instead of one thick one will help the colour last longer.
Do: Experiment with different formulations to find the one that works best on your lashes. Not all 'lengthening' mascaras give the same result, while the thickness of your own lashes will have a bearing on the heaviness of your preferred brand.
Don't: Ignore all the other colours on the market and plump straight for black - brown mascara will look more natural if you have fair skin and hair.
Lip colour
Whether lipstick, gloss, stain or tint, a groomed face isn't complete without colour on the mouth. Ensure your lips are primed before adding colour by applying a moisturising lip balm, then apply two thin coats, 'blotting' lips with a split tissue between each coat. For bold lip colour, use a matching lip liner to outline your lips so the colour doesn't 'bleed' outside the line, and add a smudge-proof top coat to ensure lasting colour.
Do: Spend that bit extra to get a decent formulation. Cheap lip gloss that sticks to everything, or waxy lipstick that comes off in seconds, isn't worth the money.
Don't: Use the very odd trick of outlining your lips with dark liner, but leave the rest lipstick-free. It just looks like you've forgotten to finish your make-up.
You might also like...