Make Up: Getting Glitter Right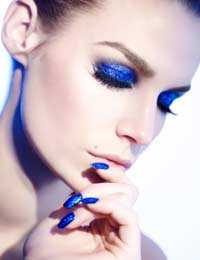 You might think there's no trick to glitter – you either slap some on or you don't, and on those times that you do you may well be risking looking like a drag act (although if that's the look you're going for, fair play). If you don't wear glitter, it may well be because you're afraid of just that. Believe it or not, there are more ways of getting glitter right than getting it wrong.
Understated Sparkle
For a start, it doesn't have to be actual glitter, and it doesn't have to be just on the eyelids. A streak of a pale shimmer eye shadow across the top of the cheekbones highlights them and brightens your entire face, whilst being subtle enough that it's unseen until it catches the light. A brushing of it just below the eyebrows also brings focus to and widens the eyes.
Soft glitter eye pencils are also perfect for the subtle shimmer look, though I would recommend using a primer first because many of the pencils will be crème-based and have a tendency to slip otherwise. These types of pencils tend to come in pastel colours so choose a shade that you already know suits your eyes and run it all the way around, framing with a gentle sparkle.
Adding Drama
For something a little more dramatic, why not try sequin shapes also across the cheekbones or anywhere around the eyes, stuck on with ordinary Vaseline. If you use tweezers or a dampened cocktail stick, you can apply individual sequins to specific places to form a pattern – just remember that they're there and don't swipe your hand across them by accident (it happens to the best of us). I would also recommend buying the sequins from an actual makeup brand rather than using craft sequins, the colours of which run and stain when they come into contact with sweat.
A good quality glitter liquid eyeliner is an essential piece of kit; something with a very fine brush for definition and layering ability to achieve a vivid look. Run it around your eyes to make them pop; try one that has holographic glitter in it which will highlight any iris colour. You can also use it to paint the tips of your eyelashes in a more defined way than a glitter mascara is able to do, as well as creating delicate patterns across your temples and down your cheekbones if you desire.
There are also stick-on gems that are suitable for use even on sensitive skin. Using them on the corners of the eyes is a little bit too 90's pop scene, but tiny ones along the eyelid close to the lash line can look spectacular, especially on top of a thick, neat flick of black.
Of course, if you're just not into eye makeup, there are some glorious glittery lipsticks out there that can look stunning with just lashings of mascara elsewhere on the face. You do get what you pay for with lipstick so choose wisely, because a cheap glittery lipstick may be uncomfortable to wear and can fade, bleed and smudge easily.
Avoid feverish streaks of neon glitter unless you're going somewhere with UV lighting and you think it's appropriate for the occasion. There's absolutely no excuse for a little shimmer to look bad, when it can do wonders for pulling focus onto the strong points of your face. Once again, it's a case of experimenting, but with these few basic guidelines you can't go too far wrong.
You might also like...