Dinner Party Planning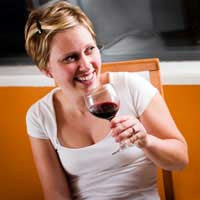 Think about the times you've been a dinner guest at other people's houses. Haven't you judged the success of the evening by how comfortable you've felt, how good the food was and how efficient everything seemed to be? Of course you have - so you can understand the huge amount of pressure host/esses feel when organising a meal.
The most important thing to bear in mind is that you are the hostess - not just the cook or maid. Everything you do should be with the enjoyment of your guests in mind, and that means keeping them entertained and relaxed as well as well-fed and watered. Follow these steps to ensure your evening's a success for everybody.
Guest List
Dinner parties are a traditional way of meeting strangers for the first time, but entertaining an entire tableful of people you don't know is a daunting prospect for even the most experienced of hostesses. Make sure you invite people whom you know will help keep the conversation going so the evening doesn't become a silent nightmare.
A good trick is to invite people that have something in common with the strangers, as even your most garrulous friends will flounder if they feel they can't bring the new faces into the chat. For example, if you've asked your new neighbours round, you should also invite other people living in the same street or at least in the local area.
Having a couple of your good friends on the guest list is also a wise idea. Not only can they be relied upon to keep conversation going by chatting to one another, but you'll be able to call on them for help in the kitchen if things get hairy.
Menu
While dazzling your guests with an elaborate menu might sound like a good plan, ensure your chosen dishes don't require you to be chained to the stove all night. Recipes that can be made well in advance and served cold will free you up during the evening. Fish, avocado, fruit or chocolate mousses can be made in individual bowls and brought out at the moment they're required, while ices or granitas look spectacular in glass dishes.
For your main course, pick a slow-cooked dish that requires an hour or more in the oven. Whole baked fishes such as salmon or sea bass are more elegant than roast meats and add a touch of simple luxe to a meal, while rich wine-based stews like beef bourguignon or coq au vin will be warming in winter. Marinated roast vegetables are an effortless accompaniment to most dishes, and look gorgeous on the table if you pick a mix of colours - try squash, red onion and various peppers.
Unless you're a professional chef, it's best to avoid anything liable to go wrong at a second's notice. Soufflés, emulsion-based sauces and anything including spun sugar are good examples of disasters waiting to ambush the amateur.
Entertainment
As long as you've chosen the right mixture of guests, conversation should be the principal form of amusement for the evening. Music's a good way of filling in early gaps, as long as you keep the volume low so people aren't dissuaded from chatting. Whatever your taste in music, pick something slow-paced and mellow to set the mood for the evening - thrash metal gives out the wrong message. Make use of an automatic CD changer if you have one, which will save time and avoid arguments later on.
After-dinner board games might seem a little outmoded, but can be a great way of cementing alliances begun during the evening. Games designed for several players, such as Trivial Pursuit or Pictionary, are best, as really competitive people can take the edge off the fun if left to their own devices.
Avoid showing your guests anything personal such as wedding albums or videos of your child's school play. They really aren't going to interest anyone who doesn't know the people involved and invariably take far longer than even the politest people can remain interested for.
Practicalities
Pick your outfit before the meal and ensure you've left half an hour before the guests arrive to get changed and made up. Being caught half-dressed will ruffle your calm and make it difficult for you to relax.
Ensure you have a selection of soft drinks - water, juice, cola and lemonade - alongside your alcohol for drivers and non-drinkers. It's fine to leave the wine bottle in the living room if you're busy in the kitchen, but don't give guests access to the entire stash of booze. The evening will rapidly descend into chaos if everyone's drunk before dinner.
Arrivals will want to know where to put their coats, so set aside a spare bedroom or study for this purpose. When greeting your guests, say 'let me show you where to leave your things', then escort them to the room, pointing out the toilet on the way. They'll be assured their belongings are safe and feel able to find their own way around without questioning you every five minutes.
Finally, remember your guests will only be able to unwind if you appear to be relaxed as well. Whatever culinary disasters or awkward questions come up, keep calm, have a glass of wine and assure everyone it's not a problem. Hysterics and frantic apologies will only result in an uncomfortable evening - and very few return invitations.
You might also like...