Perfect Party Games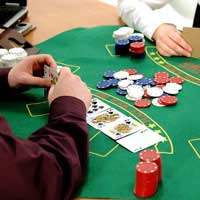 Banish those images of Pass the Parcel and Musical Chairs that you've got in your head - party games aren't just for children. Whether it's a select gathering of friends for a night in or a full-on bash that needs some great ice-breakers, here's how to pick some entertainment that'll make things go with a swing.
Board Games
If you're all of a similar age, revisiting your youth by playing childhood games of skill is a great way to reminisce without getting sentimental. Classics like Ker-Plunk (removing supporting sticks from a container holding marbles without letting them fall), Mouse Trap (building a complicated rodent-catching device) and even Jenga (pull out the bricks from the tower without knocking it down) never go out of fashion - and the kids will enjoy them just as much as you.
Games can bring out the ultra-competitive side in those who like to win, so dilute their impact by picking games played in teams. Anything that involves a degree of creative skill, such as Pictionary (where the answers are drawn) or Cranium ( a mix of puzzles and tests such as acting or singing) bring out the artistic side in everybody and stop anyone whose general knowledge isn't up to scratch feeling inadequate.
Drinking Games
As any football fan will tell you, it's far more fun to drink when you've got something to entertain you while you're doing it. - but avoid embarrassing forfeits or downing yards of ale (unless that's your thing).
Tell everyone to bring a well-known film of their choice and some booze, then put the titles in a hat and pick them out one at a time. Theme your forfeits around the film's content - a classic example is Star Wars, where different sound effects merit various amounts of drink (one finger for a lightsabre sound, for example).
This type of game is a great way of getting people involved in films they wouldn't normally find entertaining - they'll be so busy trying not to miss their drinking cues that they won't be bored at all. It also works for big sporting events - allocate each person a player in the FA Cup final teams and make them down their drink if that player scores.
Betting Games
There's nothing like the excitement of a bet to get the adrenalin flowing in the room. Look out for DVD betting games with specific themes such as the races, in which you allocate one person to act as bookmaker and take people's bets on the horses they think will win in each race.
For a more glamorous take on betting, try a casino game - roulette, blackjack, craps or poker. You can either buy home versions of the games, or hire in companies who'll set up the equipment and provide professional croupiers. These activities work brilliantly at bigger parties when everyone can drift from game to game and spend as long as they like at different tables.
Whatever game you choose, it's a good idea to allocate all the guests the same number of betting chips at the start of the night, then give prizes at the end of the evening to the highest rollers. This removes the financial aspect and won't make your poorer friends feel bitter about forking over their hard-earned pennies.
Physical Games
If you're planning a big party and you've got the space, a physical test of skill always gets the competitive juices going - particularly among men. Bouncy sumo (wrestling in gigantic rubber suits), bungee running (sprinting with a large elastic cord attached to your back) or even a rodeo bull make brilliant diversions. Make sure the equipment you hire is adequately supervised - employ a 'bouncer' to stay sober all night and make sure nobody too drunk or boisterous tries to ride the bull.
Buying Games
Why not try a Swap Shop-style get-together? Get friends to bring their unwanted clothes, accessories, books, gadgets or any other item that takes your fancy and trade them during the evening. You can also turn it into an auction, allowing people to bid for their chosen 'lots' and giving the money to the owner.
If organising your own emporium seems like hard work, a huge range of companies organise parties in your own home, allowing you to test and buy their products. Whether it's underwear, toiletries or clothes you're after, your friends will be able to give you their honest opinions without rushing from shop to shop - and with decent changing, café and bathroom facilities as well!
A word of warning, though - unless your friends have come round specifically for the game, don't let it become the focus of the entire night. If nobody's playing, then it'll be because they're enjoying themselves in different ways, so let it slide and go with the flow. Remember - you can provide fun things to do, but as long as people are enjoying themselves, you're doing something right.
You might also like...