Entertainment Ideas for a First Date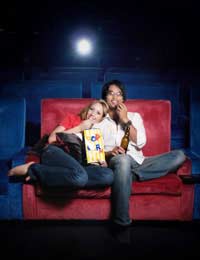 A first date may be one of the most important dates for singles. After all, the person you go out with may end up being a lifelong mate. Because of this, you want a first date to be very special and therefore should take time to think about the best entertainment ideas for the date.
After all, first impressions are very important and if you truly like this person, you want to make a good one! Here are a few dating tips to make that first night a memorable one:
The Movie Date
What is one thing that many people do on the first date – take in a movie! However, if you truly think about it, a movie date alone is not that good an idea for a first date. You are sitting side to side instead of face-to-face and your ability to talk is limited – for up to three hours! If you choose to take your date to a movie, that is fine, but precede it with a dinner in a quiet restaurant, where you can talk or follow it up with a visit to a pub so you can get to know each other better.
When picking the movie, be sure to pick something that you think your date would enjoy. It helps knowing if he or she prefers comedies to dramas or action films to an independent film. Find out as much as you can beforehand (yes, even if you have to ask him or her for advice) so you can be assured that he or she will actually enjoy their time in the theatre. In addition, be sure to have extra cash for snacks – especially if you did not go to dinner first.
The Food Date
Many people spend their first date in a restaurant. This is a good first date idea, but there are a few things you must consider. Again, put your date before yourself and try to make sure the restaurant serves the type of food he or she enjoys. If you are not sure, pick a restaurant that serves a variety of foods just in case. If you are planning on seeing a movie afterwards, you may want to find a restaurant nearby so you are not hurried to the heater to make it on time.
You can also consider making your first date a lunch date rather than a nighttime dinner date. This makes the date more concise in case it goes badly but if you find you are having a great time, you can extend it to something else such as a shopping trip or a visit to a museum.
A Different Type of First Date
If your date knows that you took more time in setting up the date rather than merely looking up the movie times, he or she will probably be impressed. Check the local newspaper to see if there are any special events such as festivals or wine-tastings going on the night of your date. If you know that your date likes to do athletic, outdoor things, go hiking or horseback riding, play miniature golf, visit an amusement park, or go roller-skating or ice-skating. If he or she is more the indoor type, you could go to a musical or comedy show, visit a local museum, go to a poetry reading, or go shopping at a flea market or antique mall.
First dates can be fun and exciting, but no matter where you go, remember to be on your best behaviour. Focus on the other person and do not talk too much about yourself. Listen to your date and always thank him or her for going out with you at the end of the night.
You might also like...