Festive Christmas Parties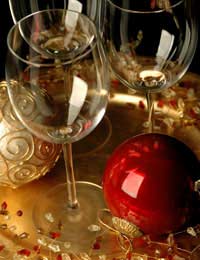 'Tis the season to be invited to parties - by your friends, relatives, employers and just about everybody who's dying to celebrate. With so many different dos to attend, however, they can blur into an endless cycle of mince pies, cheap wine and dull conversation. If you're planning to throw your own bash, stand out from the crowd with these tips for seasonal style.
Planning
Diaries get filled very quickly pre-Christmas, so pick your date as early as possible and tell everybody you know to mark it. It's wise to plump for a day at least a week before Christmas, as many people shoot off to be with family members around the country just prior to the big day and you're liable to end up with an empty house.
Christmas is also the season to catch up with people you haven't seen for ages, so make a point of inviting old friends who live a little further away as well as your usual crowd. The earlier you ask them, the easier they'll find it to organise the trip, so let them know as soon as possible. Mention any other mutual friends you've invited, so they won't feel they're walking into a den of strangers.
Decoration
Fused fairy lights, plastic Santas, multi-coloured baubles and moulting tinsel - ugh. Contrary to what retailers and town planners seem to think, Christmas is not an excuse for bad taste. It's perfectly possible to keep things festive without overloading the ceiling with paper decorations that fall down every five minutes.
To avoid being garish, stick to decorations in two strong but quiet colours - a single shade can be just as overpowering as too many. Tinsel and baubles in deep blue and silver, dark green and gold (red and gold is too conventional), or time-honoured black and white will provide a sophisticated backdrop. Stretch the theme to tablecloths, napkins and even wine glasses if you can for an extra touch of class.
If you'd prefer a more rustic, less cutting-edge look, consider making decorations using natural materials. Swathes of greenery over door frames and mantelpieces, pine cones and berries in baskets, and vases of colourful poinsettias (real or artificial) add a cosy, traditional feel to your home.
Food
No matter how much they love them, everybody is quickly going to be sick of the two great staples of any Christmas party - mince pies and mulled wine. There's nothing wrong with following tradition, but it's more fun if you put your own spin on it. Take the heaviness out of mince pies by topping puff pastry discs with mincemeat and brandy butter, and consider adding mulling spices to strong cider instead of wine.
The 'classic-with-a-twist' approach is also a great way of avoiding the same party nibbles as everyone else. Try turkey, stuffing and cranberry sauce in vol-au-vents, turn bought Christmas cake into ice-cream, or mix sparkling wine and orange juice, then freeze it to make a Bucks Fizz granita.
Entertainment
Cheesy seasonal pop sets most people's teeth on edge, so pick your favourite conventional tunes and keep the volume low for the first few hours of the party. Save the Christmas songs CD for later in the party, when everybody's in the mood for a bit of nostalgic singing along to I Wish It Could Be Christmas Every Day.
The end of the year and the party overload means your guests are likely to be tired, so don't lay on any strenuous activities. If you want games to liven up proceedings, hire a home casino, complete with croupiers who'll take punters through betting favourites including blackjack, roulette and poker. Offer people tokens to bet with and give the highest winners prizes at the end of the evening.
Small gifts are a nice way to thank your guests for choosing to come to your party. Buy a host of small, inexpensive items, wrap them up and place them in a Lucky Dip tub filled with shredded newspaper so people can select a present before heading home. Suggestions for the box include scented candles in individual tins, compact mirrors, key chains and festive hot chocolate mixes with marshmallows.
Finally, if you'd rather not throw a Christmas party, why not consider a New Year's Day 'recovery' function? Serve healthy smoothies, hold a competition to find the best hangover cure and ask your friends what resolutions you should make - then organise a prize between you for the person that manages to stick to theirs for three months. It'll stop the awful post-Christmas blues and make going back to work on the 2nd just that bit more bearable…
You might also like...