Kids' Parties Everyone Can Enjoy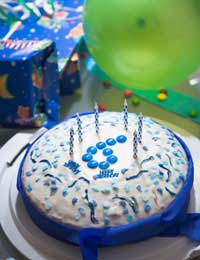 The idea of a children's birthday party can strike fear into even the most dedicated parent - how are you going to entertain twenty or thirty youngsters with an insatiable appetite for cake, screaming and destruction? If you're to survive the party with your sanity intact, it's vital to plan as much as possible in advance, leaving you free to deal with the kids' more unpredictable antics during the event. Use this step-by-step guide to ensure you've got everything covered before the hordes start arriving.
Invitations
When - A late afternoon slot is a good time for a party, as it gives you plenty of time to prepare. Put start and end times on the invitation, and don't make it too long - two hours will be plenty of time for children to eat and play games without you running out of ways to entertain them.
Where
Unless you've got a very big garden or living room, if you're inviting more than ten children, it's advisable to hire a larger space for the party. Local halls, leisure centres and restaurants all offer reasonable deals on room hire, often with food or use of the facilities thrown in, taking some of the burden off you.
What
If your child's desperate to have a themed party, write their chosen theme on the invitation, but remember it's unreasonable to expect all parents to provide their children with complete fancy-dress costumes. Get some cheap cardboard accessories that'll make the kids feel part of everything - wands and tiaras for fairies, or hats and eye patches for pirates (swords, obviously, are a bad idea.)
Entertainment
Don't get caught short - Make sure you plan enough games for the duration of the party. Kids often get through games quicker than you'd expect, and it's far better to have overestimated the number you'll need than to find yourself racking your brains as twenty sets of eyes stare blankly at you.
Everyone's a winner
Tantrums and tears often go hand in hand with competitive games. Avoid these by playing games that allow prizes to be spread out - tuck a sweet into every layer of the package in Pass the Parcel, or organise team games so at least half the children will get a prize if they win.
Mix it up
The old favourites always go down well at parties, so feel free to throw in Hunt the Thimble or Musical Statues without being accused of lacking originality. It's also a good idea to add games that allow the rowdier kids to work off their energy, so if you've got the space, look up the rules for British Bulldogs or Knight of the Castle.
While you don't want to spend valuable minutes explaining the rules, one or two fresh and exciting games will make you very popular. Scour the Internet for a wealth of possibilities and pick the ones that fit your child's age range and the space available.
Food
Pick your dishes - Think about the time of day you're holding your party. A lunchtime do will need a substantial main course, but light snacks will be fine for afternoon events. Don't go overboard producing home-made goodies for the children either, as it's very likely to be under-appreciated by your guests - go for a mixture of home-baked and shop-bought foods instead.
Time for cake
If you've spent time on a home-made masterpiece or money on an elaborate shop version, the last thing you want is for it to be ruined by careless hands. Warn the kids to step back while you light the candles, which'll keep them at a safe distance for the singing of Happy Birthday and the ceremonial blowing-out.
Support
There's no way you can supervise a large group of kids alone, so ask relatives or some of your closest friends among the children's mothers if they'll help supervise. You'll need at least three helpers, allowing two adults to oversee the children as they play games, one to deal with the food and a 'satellite' who can deal with crises such as injuries, toilet visits and the like.
Don't allow other mothers to stand chatting in your kitchen after they've delivered their children - they'll distract you and get in the way. Excuse yourself by saying you've got to organise the next game/see to the food and that you'll see them at the end of the party. Refuse offers of 'help' by explaining you've got people watching the children and it's really not necessary.
In the midst of the chaos, remember you're throwing the party for your child and they'll only enjoy it if they and their friends are allowed to have a good time. Ignore the noise and mess in the knowledge it'll all be over in two hours and allow as much free rein as you can - after all, it'll be some other parent's turn next month.
You might also like...