Being The Host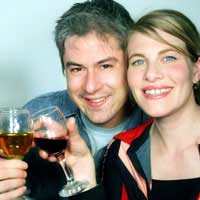 It's always tricky to find the right balance when you're planning a party - do you rush round making sure others are enjoying themselves, or throw caution to the wind and hope everybody else follows your example? To make sure you don't end up at either extreme, follow this step-be-step checklist to become the host with the most.
Welcome
If you've invited people who've never been to your house before, make it easy to identify. When you send out invitations, include directions and instructions on car parking. Ensure the entrance is well-lit, and have music on, but make sure it isn't turned up too loud at this early stage of the evening.
For big parties, enlist the help of others living in the house to make sure there's always somebody on hand to greet new arrivals. Welcome them in and ask how they are, before showing them where to put their coats (designate a room for this beforehand and keep the door shut) and the location of the drinks table.
Drinks
Even if you've only invited one couple round for dinner, it's not necessary to wait on them hand and foot. Pour their first drink, then leave wine in an ice bucket, and explain you've stocked the fridge with beer and soft drinks so they can help themselves. At bigger gatherings, as long as you've made it clear to everyone where they can find the drinks, you really shouldn't need to circle the room checking everybody's got a full glass.
If anybody gets excessively drunk, escort them to a quiet room and leave them with a glass of water and directions to the nearest bathroom (or a bucket, if necessary). Don't feel you have to keep checking up on them, but do drop a word in the ear of the people they came with so they don't start to worry.
Food
You can't be expected to have a good time if you're running back and forth taking things out of the oven, filling up crisp bowls or concocting elaborate recipes for your dinner party guests. Do as much of the catering as you can in advance - make chilled starters and desserts for formal meals, and pick cold dishes for buffets where possible.
If you are going to serve hot buffet food, try to make sure it all goes into the oven at once, so you're not constantly waiting for the timer to go off. In any case, carrying dangerously hot trays of food through a crowded room to the table poses a risk to you and your guests. Don't forget the details - put out plenty of napkins next to the paper plates, as well as salt and pepper.
Entertainment
The best sort of party entertainment gets people actively involved, but don't organise anything that'll be intrusive for people who aren't interested in participating. Activities that require concentration for long periods of time, like board games or quizzes, are best confined to smaller gatherings, while the all-pervading noise of karaoke will grate on people's nerves - especially if the person holding the microphone can't sing.
Physical activities are often the best way of breaking the ice between people who aren't great at small talk. If you've got the space, try something everybody can have a go at that doesn't require any particular skill, such as inflatable sumo suits or air hockey, and watch the competition unfold naturally.
People: Don't Neglect the Key Ingredient
While people will appreciate well-presented food, drink and entertainment, the biggest factor in any party's success is the guests. As host, it's your responsibility to make sure everybody feels comfortable and happy to join in with whatever's on offer.
Don't confine your attentions to the big groups of people obviously having a good time - take a look around the room and see whether anybody's struggling to get a conversation going, or standing shyly on the sidelines. Go over and take the pressure off them by adding your own opinions to a discussion, introducing timid types to other people or suggesting they check out the entertainment on offer.
The End
People will leave at different times throughout the evening. Escort them to the door, check they've picked up their coats, and tell them you hope they've had a good time - rather than fishing for compliments by asking if they've enjoyed themselves.
Don't feel you have to keep things going until the last person decides to leave. If you think it's time to call a halt, give an obvious signal by starting to clear food and drink from the main area. For the really thick-skinned, tell them you're sorry to eject them so early but you're going to need some sleep before your long drive/daughter's early-morning dance class/mother-in-law's arrival tomorrow.
The golden rule of hosting is Do Not Panic - no matter what, you're in charge in your house and you will be able to sort it out. Smile, relax and quietly begin sorting out the disaster without interrupting anybody else's fun. That way, even if the worst happens, you'll still be remembered as 'that one who gave the really great party before the house burned down'…
You might also like...